Car accidents have become almost commonplace on Sacramento roads. Even though accidents are a daily occurrence, people still rarely believe that they will be the next victim of a serious collision. No matter what safety precautions you take, a negligent driver can take away your sense of security in an instant.
Not only that, a negligent driver can leave you struggling to recover from life-altering injuries and regain your financial security. Time missed from work combined with the high cost of health care can mean you'll find yourself at the bottom of a financial pit you can't readily dig your way out of. An automobile accident can negatively impact your physical, mental, and financial well-being, all in the blink of an eye. Is it right that your entire life is turned upside down because of someone else's reckless actions? We don't think so.
At Tiemann Law Firm, we see the consequences of a serious car accident almost every day. We understand the devastation this type of accident can cause. That's why our Sacramento car accident lawyers are dedicated to helping families like you recover following a serious car accident. If you or a loved one has been involved in a car accident, whether cuts and bruises to road rash to wrongful death in Sacramento or the surrounding areas, including Folsom, Citrus Heights, or Rocklin, contact Tiemann Law Firm today to discuss your legal rights. Call (916) 999-9000, and we will schedule a free case evaluation to review your claim.
Car Accident Attorney In Sacramento?
If you've been the victim of a serious accident, we understand what you are going through. Whether you are trying to deal with a negligent driver or their insurance company, it can feel like you are spinning your wheels. That's because no one is looking out for you or your best interests after a serious accident, especially if the accident wasn't your fault. A negligent driver only wants to attempt to shift blame away from themselves, and insurance companies want to keep their hefty profits. That means paying out as little as reasonably possible.
That's why you need to contact an experienced car accident attorney. If you are looking for an insurance settlement, we can help negotiate on your behalf to make sure your rights are protected, and you are getting the maximum compensation you deserve. If taking a negligent driver to court is the best option for your circumstances, an attorney will be able to put the time, effort, and resources into making sure your claim is as strong as possible, so you get the compensation you need.
At Tiemann Law Firm, we offer a free initial case evaluation to review the circumstances of your accident. If we take your case, we will not charge you any attorneys' fees until you, yourself, receive compensation. We understand that the last thing you need to worry about as you are trying to recover and figure out how to make ends meet is how to pay an attorney.
Steps to Take Following an Car Accident
Being involved in a serious car accident is frightening. There is a rush of adrenaline that takes over, and it can be hard to think clearly and rationally about the situation you now find yourself in. In any type of car accident, there are important steps you must take. Some are required by California law, and some are important to take because they can help strengthen your case later if you pursue an insurance or legal claim against another driver. If you've been involved in a serious car collision, here are the steps you should take next:
Call 911: If you or anyone else at the scene is seriously injured, you need to get medical help immediately. Call 911 and make sure medical services and law enforcement are on their way to help. Even if the accident is minor and you don't immediately go to the hospital, make sure you get checked out by a physician promptly. Some injuries, including some serious head injuries, can take time for symptoms to manifest.
Report the accident: California law states that the driver of any vehicle involved in an accident with injuries or death must, within 24 hours, make a written report of the crash to the California Highway Patrol or the local police department. Also, calling law enforcement when you've been involved in an accident is important because the investigation and subsequent police report can be very important when trying to establish fault and liability for the accident.
Collect information: If you are able, make sure that you collect information from everyone at the scene of the accident, including the other driver and any witnesses. You will want to make sure you have the driver's name, address, insurance information, phone number, driver's license number, and license plate number.
Document everything: Again, if you are physically able, make sure that you take photos of the accident, the damage to both cars, debris, tire marks on the road, and any other pertinent information about the scene. Try to make notes of what happened immediately before the accident while the details are still fresh in your mind.
Contact your insurance provider: Contact your insurance provider to let them know you've been involved in an accident. Give them the facts only.
Contact the California DMV: California law stipulates that drivers involved in an accident that results in injuries, a death, or property damage of more than $1,000 must report the accident to the California DMV. Drivers have ten days from the date of the accident to complete the Traffic Accident Report and turn it into the DMV. Failing to report can result in serious penalties.
Do not go on social media: It can be tempting to get people on your side but resist the urge to take to social media after an accident. Your best bet is to stay quiet; that way, an attorney or insurance adjuster can't use your own statements against you or twist them to make you seem like the one at fault.
Contact an attorney: Contacting a car accident attorney right away means that you have someone on your side who can help with the investigation, gather evidence, talk to your insurance company, and support you through the difficult process of getting compensated fairly for your injuries. Let an attorney shoulder some of this burden so you can focus on what matters, you and your family.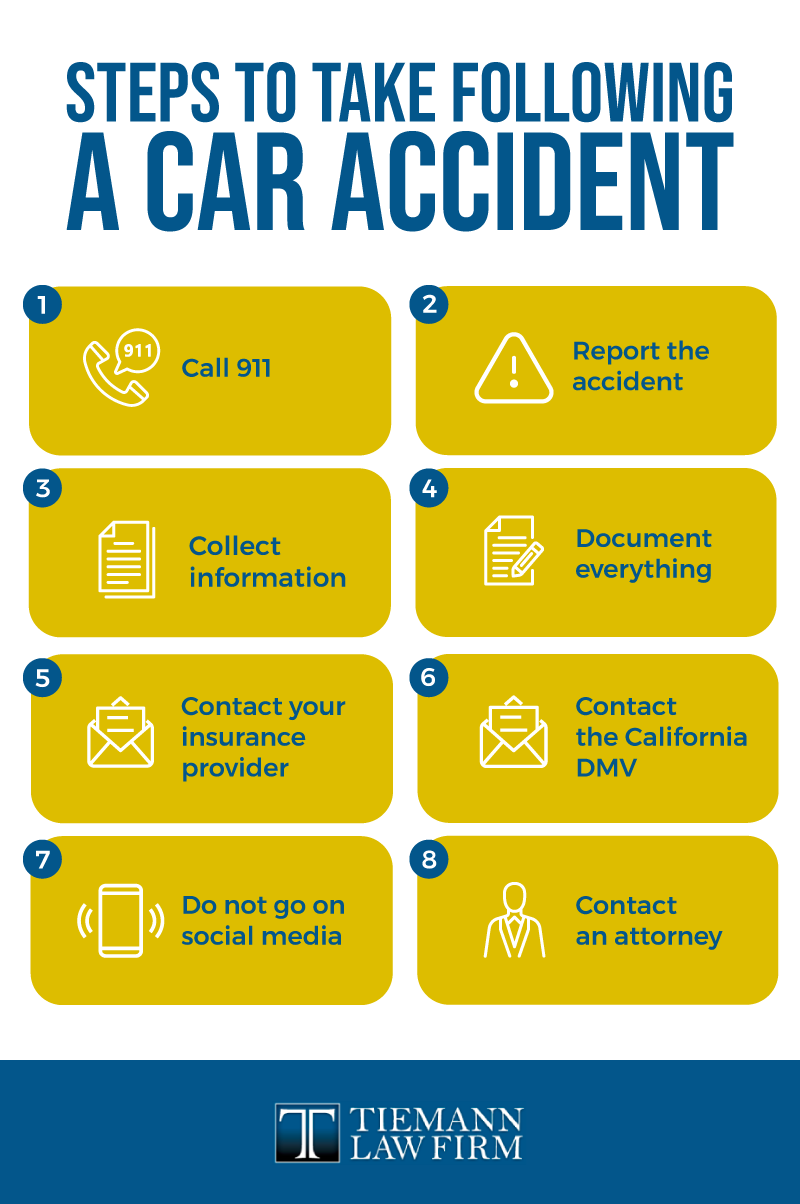 What Does a Car Accident Investigation Look Like?
A car accident investigation can take many different forms depending on the circumstances of the accident itself. After a serious accident, three main bodies may be involved in investigating how the accident happened. The first body is law enforcement. Law enforcement is typically the first at the scene to take statements and begin the initial investigation into how and why the accident occurred. They will be able to gather evidence, make a note of the surroundings and conditions at the time of the accident, and can test drivers for drugs or alcohol if they suspect those could be a factor in the accident.
Police reports can be a very important source of facts, but a police report on its own may not be enough to hold a negligent driver accountable for their actions. A good defense attorney may be able to argue that a police report offers "opinions" on fault for the accident. Opinions are not proof positive and may not stand up in court without further substantiating evidence.
The second body that may be involved in an accident investigation is an insurance adjuster. This is an agent working on behalf of an insurance company who will be investigating who is responsible for the accident and what damages may be owed. Keep in mind that insurance companies are for-profit businesses. It is better for business to keep insurance payouts as low as possible to keep profit margins high.
Hiring an experienced car accident attorney means you may also be working with an independent investigator or accident reconstruction specialist. Car accident attorneys have the resources available to find experts that can gather more evidence and recreate the circumstances of the accident to better establish fault and liability. An attorney will also be able to use the power of the court system to secure valuable information, such as surveillance videos from nearby businesses, in-cab footage if a truck was involved, and other crucial documentation that could help strengthen your case.
Damages Available for Car Injuries?
If a negligent driver is to blame for your injuries, California law allows victims to recover compensation for both economic and non-economic damages. Economic damages are tied to certain calculable losses such as:
Current medical expenses
Future medical expenses related to the accident
Lost income
Loss of earning capacity
Property damage
California also allows victims to recover what are known as non-economic damages. These damages are harder to calculate and are often tied to the pain, suffering, and mental trauma of going through a serious accident. Non-economic damages may include:
Pain and suffering
Emotional distress
Loss of companionship
Disability
Disfigurement
California is unique in that it is one of the few remaining states that has not imposed a cap on non-economic damages in serious car accident cases. That means there is no fixed limit to the amount of money that may be awarded for damages. However, California does not allow an individual to recover non-economic damages if they do not have car insurance at the time of the accident. This rule is at play no matter who is to blame for causing the accident. If you do not have car insurance, you do not get to claim non-economic damages, the most you can claim is money for property damage, lost wages, and medical expenses.
Most Common Cause of Car Accidents
It is no secret that one of the most common causes of car accidents on the roads today is distracted driving. From texting to eating to using a navigation system, there are more distractions and devices vying for our attention today than ever before. Unfortunately, that translates into less time paying attention to the road, and the consequences can be dire.
Go Safe California found that, in 2019, almost 60 percent of California drivers surveyed said they have been hit or almost hit by a driver who was talking or texting on a cell phone. Any type of visual-manual task that takes a driver's eyes off the road, even for a few seconds, increasing the risk of getting into a collision by three times. While distracted driving is one of the main causes of accidents, it isn't the only one. Here are the most common causes of car accidents:
Most Common Types of Car Accidents
Car accidents happen in a variety of different ways under a variety of different conditions. That means numerous types of accidents can occur, each with their own set of unique characteristics and injuries. Some of the most common types of car accidents include:
Common Injuries Suffered from Car Accidents
Safety features on vehicles have come a long way. From seatbelts to airbags, there are several precautions that drivers take to keep themselves safe out on the road. While these tools help keep the severity of injuries down tremendously, when 3,000 pounds of steel collides with 3,000 pounds of steel, the results can be catastrophic. Car accidents can lead to serious, even life-threatening injuries. Some victims may never be able to regain the function they had before the collision and can face an uphill battle when it comes to recovery.
These are some of the more common injuries that may happen as a result of a car accident:
Traumatic brain injury
Concussion
Head, neck, and spine injuries
Whiplash
Fractured bones
Soft tissue damage
Internal bleeding
Organ damage
Knee damage
Chest and rib injuries
What Is the Cost of a Car Accident Attorney?
At Tiemann Law Firm, we understand that following an accident, you are probably struggling with serious financial concerns about how you'll pay your medical bills, pay for car repairs, and make ends meet while you may be out of work because of your injuries.
We provide you with a free initial case evaluation to review the circumstances of your accident. We also work on a contingency-fee basis. This means that, if we take your case, we will not charge you attorneys' fees unless and until you receive compensation. We understand you are in a financial bind; that's why we try to make it easy to start the legal process without any upfront fees.
Statute of Limitations on Car Accident Claims in Sacramento
California has a two-year statute of limitations, or deadline, to file an accident injury case. This two-year deadline begins on the date of the accident. Only under very rare circumstances will a court hear an accident injury case after this two-year time limit. In most cases, if you fail to file a claim in time, the case will be dismissed, and you will lose the ability to recover compensation through the court system.

I sat down and met with Jelena Tiemann about my vehicle accident.I presented all of my documentation to her in which she gave me her assessment.Although the Tiemann Law Firm wont be representing me because my settlement offer was pretty good she was very clear,forward and professional about what she felt could and couldn't be done.I recommend this law firm to anyone who needs a helping hand at fighting a case where you don't have to worry about the outcome not going in your favor. Please don't review this business if you received a freebie for writing this review, or if you're connected in any way to the owner or employees.

The Tiemanns were referred to me by a friend and I am exceptionally happy with the service I received. I had never been in an accident before. I had no idea what to do. Jelena verbally explained how everything would work to me, and she and Peter handled everything. I didn't have to lift a finger once. They went above and beyond for me and I am extremely grateful. I pray I won't ever need this type of assistance again, but I will definitely be referring them to friends and family.

I highly recommend The Tiemann Law Firm! I had never before been in a situation where I sustained injury and had to seek legal representation. I was nervous, traumatized, and had no idea what to expect. Jelena, Peter, and their staff walked me through each step of the process. They explained everything in detail. They patiently answered all my questions, responded quickly to every email, text message, phone call, etc. I felt totally prepared for each new phase of the legal process. Furthermore, they were fearless in their defense of me. In certain situations, when I felt attacked or scared my attorney protected me like I was family. Their diligence, honesty, integrity, and compassion provided a true sense of healing and closure for my family and I. The Tiemann Law Firm accomplished more for me than I ever thought possible and I am forever grateful.
Hanna Padilla Testimonial

From the very start of my case the Tiemann Law Firm was wonderful. Perter came all the way to my home to sit down and talk to me about my options. He made me and my partner feel very comfortable and promised us he would take the very best care of my case. Peter kept me informed every step of the way and was always on top of things. everything was done in a timely manor and I always felt like I was the only case he was working on because he was so fast. In the end Peter got me back way more money than I ever expected. I would recommend this law firm to everyone. I am very happy with the outcome of my case thanks to the Tiemann Law Firm! Thank you!

Here's the thing... Nobody really thinks much about lawyers until they need one.  Well, we needed one!  The Tieman Law Firm came through for us in a big way. They were professional, courteous, thorough, and had excellent staff as well.  Highly recommended...

It is hard to put into words the care and dedication that I received from the Tiemann's. They have been here for me every step of the way and were always available when I had questions or concerns. My husband and I will be forever grateful for everything they have done for us and our family. Thank you so much for all of the hard work and time you have put into my case, we greatly appreciate it and your friendship. We highly recommend this firm and will always be thankful for everything they have done. Thank you so much again, Kim

No one wants to have to hire a lawyer, but if you do. I prefer Tiemann Law. They helped a family member who was injured on the job, and the company did not want to compensate him even though, the injury occurred on the job on company time. Jelena was always professional in explaining the lengthy process of fighting a large corporation. 2 years later he finally is receiving the deserved compensation.

I just saw my lawyer Jelena Tiemann on a t.v ad, which reminded me how much she helped when I was in a desperate situation. I just love her! That is why I feel a need to tell everyone. I had a situation that happened & didn't know what to do, our where to go. I didn't even know if she could help me or if any lawyer could. All I wanted was it to go away & was afraid most lawyers wanted to drag it out & possibly go to court. For one she was very professional but was very personable (maybe b.c she's a lady). She didn't make me feel embarrassed or self-conscious that I did something wrong or was the cause of the situation. She immediately said we should try our best before going to court. Let me handle some paperwork, if at the last we do go to court we have documents. She gave me all the details, pros and cons but reassured me she deals with these cases all the time. She came through and made it as painless as possible. I now have my life back.

I was in a car accident a while back where I was injured and had to miss work for an extended period of time.  After nearly a year of fighting with the insurance company with no results and no progress, I met with Jelena Tiemann.  I couldn't have asked for a more responsive and supportive advocate.  We quickly reached a settlement and I finally was able to move from the stress and burden of feuding with my insurance.  I highly recommending meeting with Jelena if you're in need of a lawyer.
Jennifer Birdseye Testimonial

Tiemann Law Firm helped us with an injury case for my nephew. They were very knowledgeable and we are very happy with the service they provided. The entire staff is topnotch!

I was in a very bad/ major car accident I originally had an attorney who wasn't trying to help me out much or take any of my calls so I called Tiemann and told them my situation. They made it an AWESOME and Smooth transition over to them and took on both cases I had. I just settled on my big case and am beyond great full. For them and their team! I highly recommend them. To add on to this a little On how much they will work with you, I moved to Montana in the middle of all Of this and it was not an issue!
Car Accident Lawsuits in Sacramento
When you first take legal action, you will want to review all of your legal options with a skilled car crash attorney. Depending on the circumstances of your accident, and depending on the settlement the insurance company eventually offers, it may be in your best interest to file a lawsuit against a negligent driver to recover compensation. If that is the case, these are some of the steps you may expect to see.
Elements of the lawsuit: An attorney will review all the evidence and information to determine if all of the elements of a lawsuit are present:

Does the negligent driver owe the victim a duty of care?
Did the negligent driver breach that duty of care through legally defined negligence?
Is this negligence a factor in causing injuries and damage?

Investigation and evidence collection by a legal team
Calculation of damages owed: Your attorneys will calculate your damages owed based on your expenses and the extent of your injuries and losses.
Issuing of a demand letter: A demand letter from an attorney is meant to notify the at-fault party that the victim intends to recover damages. This letter can contain information on liability, the extent of your injuries, and a request for compensation.
Filing a claim for damages in court
Negotiating a settlement: Many individuals do not want to enter a courtroom and will try to settle outside of court.
Trial: If a settlement is not reached or the terms of a settlement cannot be agreed upon, then the case will move to court.
Accident Claims Process
If you first choose to go through the insurance company to receive compensation following a car accident, an attorney can help you negotiate the terms and protect your rights. Insurance companies want to settle with as little hassle as possible for the least amount of money. There are several steps involved in the process, including:
Filing a claim with the insurance company
Answering insurance adjusters' questions
Adjusters investigation
Reviewing the settlement options
Receiving final compensation
An attorney can help you negotiate a fair settlement and make sure you aren't being taken advantage of by an adjuster. An attorney will also be able to tackle issues that may arise if your claim is rejected.
Contact an Experienced Car Accident Attorney Today
You didn't ask for this accident to happen – you were the victim of a negligent driver. Now you are stuck with the repercussions of their actions, huge medical bills, serious injuries, missing time from work, and missing time spent with your family. At Tiemann Law Firm, we don't think you should have to spend the rest of your life paying for someone else's mistake. Don't put your future and your livelihood in the hands of an insurance adjuster or a negligent driver. Trust the legal team at Tiemann Law Firm.
At Tiemann Law Firm, we'll provide you with a free case evaluation, and we won't get paid until you get paid. Call us today at (916) 999-9000 to schedule your consultation and let us help you get the compensation you deserve.
Frequently Asked Questions About Car Accidents
At Tiemann Law Firm, we frequently receive questions from clients about what they should expect when they file an injury claim. We've answered a few of those questions below:
What if the at-fault driver is uninsured?
To begin, state law requires all California drivers to have insurance. Not carrying insurance is against the law and can result in penalties. If a driver has no insurance, you may be able to file a claim through your insurance company, or you may be able to file a personal injury lawsuit against the at-fault driver. An experienced attorney will be able to help you evaluate the best options for your particular situation.
Do insurance companies give fair offers?
Insurance companies are for-profit businesses. It is in their best interest to keep payout low or to a minimum. Their insurance adjuster also may not have taken all the information into consideration when making a final decision. Having a Sacramento car accident lawyer on your side means that an insurance company won't easily get away with making a lowball offer, while not considering all the facts. An attorney can negotiate on your behalf to get the best settlement for your injuries.