Suffering a Concussion in a Car Accident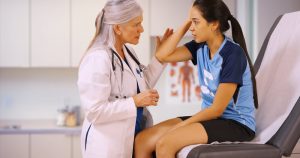 If someone else's negligence caused your concussion in a car crash, you should call Tiemann Law Firm immediately. We might be able to represent you in an insurance claim or lawsuit and pursue the compensation you need to pay for your medical treatment and additional expenses.
A concussion disrupts the functioning of a person's brain and causes various symptoms, including blurry vision, headaches, dizziness, and nausea. The debilitating symptoms can interfere with your daily routine, preventing you from returning to work or caring for your family. What appears to be a minor concussion can often turn out to be a severe brain injury and lead to adverse consequences.
A concussion can occur in a range of scenarios during a car accident. Whether you hit your head on the steering wheel or the momentum of the collision jolts your body back and forth violently, you could suffer an injury and damage to the brain. It's crucial to seek immediate emergency care so a doctor can evaluate your condition to determine the severity of the injury and the type of treatment necessary to heal.
The Sacramento car accident lawyers of Tiemann Law Firm know the effects of a concussion on a person's life. You could face ongoing pain and additional symptoms that diminish your quality of life. The road to recovery can be long and challenging, requiring significant rehabilitation. Many people can't afford the cost of treatment and face significant medical debt.
You deserve the opportunity to hold the negligent motorist liable for their actions and seek the money you're owed. Our legal team is ready to fight for you and try to reach the best possible outcome in your case. Call us at (916) 999-9000 right now for your free consultation.
Common Symptoms Associated with a Concussion
A concussion is one type of traumatic brain injury that occurs when a person experiences a jolt, bump, or blow to their head. Direct contact doesn't have to happen to suffer a concussion. It can also result from the body or head shaking violently from side to side or forward and backward, jostling the brain around inside the skull.
The sudden movement placed on a person's brain damages brain cells and changes the shape of the brain tissue. Concussions cause chemical and metabolic disruptions, preventing the brain cells from functioning normally. The damage can even extend to the blood vessels, nerves, and additional structures around and inside the brain.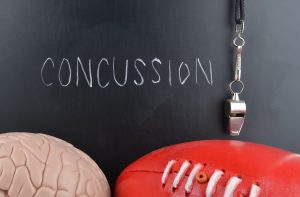 The most common symptoms of a concussion include:
Dizziness
Nausea or vomiting
Sensitivity to noise and light
Issues with memory
Insomnia and other sleep problems
Blurry vision
Headaches
Confusion
Ringing in the ears
Slurred speech
Fatigue
Forgetfulness
Changes in mood and personality
Difficulty concentrating
Even if you feel okay after a car crash, you should go to the hospital anyway. It's best to let a qualified physician examine you to determine if you have a concussion. Going home to rest isn't an option when it comes to injuries to the brain.
If the extent of the damage isn't immediately apparent, you could experience significant complications that a doctor could have avoided if you sought the necessary treatment. For example, a concussion can lead to swelling of the brain. Surgery might be the only way to reduce the swelling and alleviate the pressure placed on the skull. Without surgery, the injury can be fatal.
Common Reasons Concussions Happen in Car Accidents
Most cars have safety devices to protect the occupants during a collision. However, these devices can also cause severe injuries, especially if they malfunction. The most common factors contributing to concussions during car crashes include:
Airbag deployment – Airbags are supposed to expand rapidly when the vehicle detects an impact from an accident. The airbag deploys within seconds to soften the blow and shield a person's body. However, it can also violently push the driver backward in their seat, causing their head to shake, and damaging the brain.
Locked seatbelt – Seatbelts often lock in place immediately when a crash occurs. Although a locked seatbelt prevents you from being ejected from the vehicle, it can also keep your body in place while your head snaps side to side or forward and backward. The sudden change in momentum can cause the brain to shake around inside the skull, resulting in a concussion.
Steering wheel injury – If the airbag doesn't deploy, the impact could force your head forward, smashing into the steering wheel. You could even hit your head against the window if someone collides with your car from the side.
Crushed frame – Although many vehicles have sturdy metal structures, part of it can become crushed if the crash is severe enough. If the roof caves in on top of you suddenly and quickly, you could sustain a severe concussion.
Ejection – The impact of someone's head on the windshield as they become ejected from the car can cause a concussion instantly. Even if you wear a seatbelt, you could get ejected if it malfunctions in some way.
Possible Compensation After a Car Accident
State law requires every driver to carry auto insurance with minimum liability coverage. If another driver caused the accident, you could file a claim with their insurance company. The settlement you receive might compensate for the losses you suffered due to your concussion, such as:
Physical impairment or disfigurement
Medical expenses
Loss of enjoyment of life
Emotional distress
Property damage
Lost wages
Lost earning capacity
Pain and suffering
The insurance company might deny your claim or provide a settlement offer that doesn't cover your total losses. If that happens, you could proceed with a lawsuit. However, it's vital to understand the risk you take during a lawsuit if your actions contributed to the crash.
Pure comparative negligence allows the jury to reduce the plaintiff's financial award by their percentage of shared fault. If you were partially responsible for the crash, you could end up with less compensation than you need.
For example, let's say your losses total $100,000. If the other motorist were 100% at fault, you could receive the full $100,000 in compensation. However, if the jury determines you were 20% at fault for your concussion, you could only receive up to $80,000.
Contact Tiemann Law Firm
If you suffered a concussion in a car accident due to another person's negligent behavior, call Tiemann Law Firm at (916) 999-9000, or contact us online today. We can meet with you for a free consultation to discuss what happened and determine if we can represent you in a case against the at-fault driver.