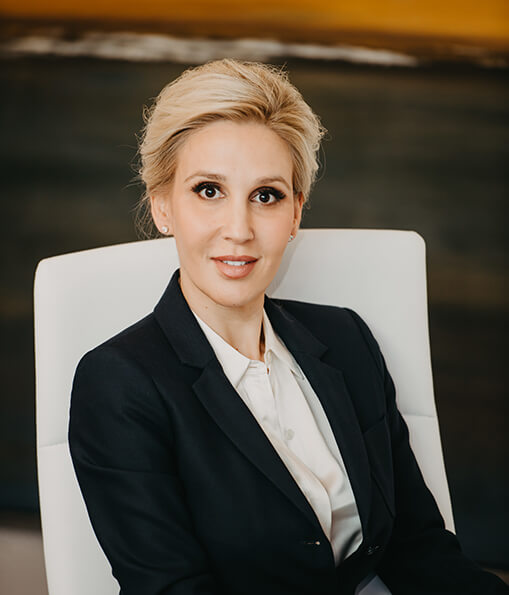 GET YOUR FREE CONSULTATION
916-999-9000
Jelena Tiemann prides herself on being warm and easy to talk to. She strongly believes in getting to know her clients and all the issues they may be facing, whether related to their personal injury case or not.
Jelena has extensive knowledge of insurance companies and how to prevent them from limiting a client from a just and fair settlement, and she will spare no expense or effort to ensure that her clients receive maximum recovery.
People from around Sacramento and Northern California come to Jelena not just for her expertise, but for her personality.
If you were hurt in an accident, contact Tiemann Law Firm at (916) 999-9000 for a free consultation.
Contact Jelena
get your free consultation
701 University Avenue, Suite 150 Sacramento, CA 95825
Personal Background
Jelena was born and raised in Serbia. She immigrated to America when she was 17. She began her legal career working as a prosecutor for El Dorado County. After leaving the District Attorney's Office, Jelena focused her career on representing plaintiffs in personal injury matters, which is now her sole practice area. Her efforts in 2013 alone include a $1.8 million dollar settlement in a wrongful death case, a $1 million dollar settlement in a fractured hip case, an $800,000 settlement in a back injury case and numerous maximum insurance policy limit recoveries on behalf of injured clients. She has helped clients in all types of accident and injury cases, including wrongful death, automobile collisions, slip and falls, and product liability cases.
A Connected Sacramento Attorney
Although she specializes in personal injury cases as an attorney, if her clients have any questions about other areas of the law, she will do her best to answer any questions. With many connections in the greater Sacramento area, Jelena is also able to refer clients to attorneys who specialize in any area of concern or problem to the client. Jelena is well known and respected in the Sacramento legal community for her friendly and personal approach to her clients. She prides herself on doing everything she possibly can from a legal standpoint to pursue claims for her clients to the fullest while allowing them to focus on the healing and recovery process. Once retained as an attorney, Jelena strives to manage the entirety of the case in order to relieve any and all stress off of her client. Jelena has helped clients throughout Northern California, including the greater Sacramento area, El Dorado County, Yolo County, San Joaquin County, Placer County, and San Francisco County. Jelena also participates in numeros charities including Casa Sacramento, Casa of El Dorado, Hands for Hope, and Big Brother Big Sister. Jelena is married and lives with her husband and two children in El Dorado Hills. In her free time, Jelena enjoys running, going to movies and traveling.