If you have been injured in an accident in Clarksville that was someone else's fault, you may be entitled to receive monetary compensation. After being injured in an accident, you to speak with a personal injury attorney as soon as possible about your case. We are here to provide clarity and guidance as we fight for what you deserve during this confusing and frustrating time. 
Your quality of life may already be impacted. You may be at a reduced level of functioning because of the accident. This can affect your daily life in many ways, including physically, mentally, and emotionally. You may also be out of work and wondering how you will be able to support yourself going forward. 
Call us today at (916) 999-9000, or reach out to us online to speak with a member of the Tiemann Law Firm legal team. We are ready to discuss your case with you and answer any questions you may have. We have been helping people in similar situations like yours for over 20 years. You should not have to bear the financial responsibility for an accident that you did not cause. Whether your injury results from a motorcycle accident, a slip and fall, or an accident with a commercial truck, we are here for you. 
We Can Help You
We have built our business to serve our communities and the people who live here. These communities are our home too, and we work hard to protect the rights of our neighbors. If you've been hurt in an accident, you need help, and you need it now. 
Having an experienced legal team on your side can make all the difference in the success of your claim. The medical bills you have incurred so far may only increase as you proceed in your recovery. This can be a distressing realization. It can be even more frightening if you are currently not working because of the injury. You may not know how long your treatment will take or how much it will cost in the long run. 
The compensation to which you may be entitled can involve many factors. Your right to compensation may include:
Medical bills

Future medical care

Physical therapy

Prescription medication

Lost wages

Loss of earning capacity 

Property damage

Physical impairment or disfigurement

Loss of enjoyment of life

Pain and suffering
Each case is unique and depends on many factors. You can be sure we will examine all the details of the accident as we build your case. We will also communicate with the insurance company on your behalf. The insurance companies involved may try to offer settlements that are too low. In doing so, they want you to accept an unfair offer that is less than what you deserve. We believe that you should only accept a complete and fair offer. If negotiations are unsuccessful, we will be prepared to go to trial to hold the liable party responsible.
When you choose Tiemann Law Firm, you can be sure that we will pursue the maximum amount you may be entitled to. You can trust the legal team at Tiemann Law Firm to fight for what's right for you. Contact us now.
Personal Injury Cases We Handle
At Tiemann Law Firm, we concentrate on personal injury law in Clarksville and the surrounding areas. We are prepared to take on any type of personal injury case. Whether your injury is due to a traffic accident or an unsafe situation on someone else's property, we know how to build a strong case for you. The case types we handle include: 
You may even have been injured in another accident type that is not listed here. It's critical that you discuss your case with one of our personal injury attorneys as soon as possible. We can let you know what to expect and help you navigate this difficult time.
Why You Should Choose Tiemann Law Firm
After an accident, it's critical to have someone experienced and objective on your side. After an accident, we understand that life can often feel like a rollercoaster of emotions. Making decisions can be difficult, not to mention attempting to handle an insurance claim on your own. Trying to take on an insurance company as an individual is a situation where they have the advantage. We can balance this out by bringing our decades of experience to your case.
We aggressively advocate for our clients in each case we take on. We know that your future is on the line. We will fight for you to receive the full amount you may be entitled to. We have done this many times before across our more than two decades in business. 
The best endorsement is the testimonials of our satisfied clients. We have gone to battle for them and gotten them the results they needed, time and time again. We will bring the same level of tenacity to your case. We don't charge any fees unless we win your case and you receive compensation.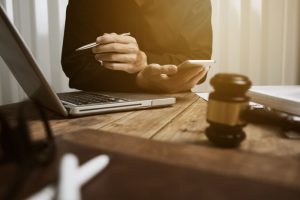 Contact Us Today
If you've been hurt in an accident that was not your fault, you may be entitled to compensation. It's important that you speak with a personal injury attorney right away about your situation. You should not have to pay the costs for someone else's mistake.
We have built our reputation on serving our clients with compassion and professionalism. We will keep you informed each step of the way so you know what to expect. We know you may have questions, and we have compiled answers to some of the most common ones we receive
Call Tiemann Law Firm today at (916) 999-9000, or contact us online to speak with one of our Clarksville personal injury attorneys. We are here to aggressively pursue the money you may be entitled to. You can rest easy knowing that we will seek the maximum amount of compensation for you. Let us handle this for you so you can focus on moving on from this devastating experience. Call (916) 999-9000 for a free consultation now.