An accident with a large commercial truck is a uniquely frightening experience. The sheer size and weight difference between a commercial truck and a passenger vehicle mean that the resulting injuries are often life-changing. According to the American Trucking Association, trucks move over 70 percent of the nation's freight by weight, and there are roughly 37.9 million trucks that are registered and used for business.
This means that nearly every time you are on the road, you are likely sharing it with a commercial truck. The Sacramento truck accident lawyers of Tiemann Law Firm understand the financial and emotional burdens that follow a severe physical and emotional injury.
Insurance claims and personal injury lawsuits are often intimidating, and when they involve a commercial trucking company, they can be complicated. When you schedule a free consultation and case evaluation with our legal team, one of our experienced and skilled attorneys will explain your rights and review the details of your case.
We recognize that every case is unique, and we strive to provide each of our clients with customized and individualized attention. If you've been injured in Sacramento in a crash that wasn't your fault, we'll work to recover the maximum amount of damages you are owed. You can schedule your free consultation today by calling our office at (916) 999-9000.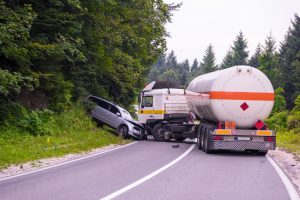 There Is a Limited Time to File a Lawsuit
California's statute of limitations limits the amount of time you have to file a personal injury lawsuit to recover compensation after being injured in an accident. In California, that time limit is two years from the date of the accident.
If you do not file a personal injury lawsuit within two years, you relinquish your right to seek compensation for your losses in court. Two years may sound like a long time. However, it takes time to gather information and data that supports your claim, documents your injuries, and estimates your potential future medical expenses.
Time can pass quickly when you're recovering from significant injuries. Don't let an unexpected accident or injury destroy the plans you have for your future. Put our lawyers to work on your case today.
What Are Head, Neck, and Spine Injuries?
Your head, neck, and spine are particularly vulnerable during a truck accident. During a truck accident, you may experience injuries to your head that result from meeting a stationary object or a flying object hitting you.
These can cause brain injuries that range in severity from a mild concussion to a severe traumatic brain injury. Medical professionals call concussions a "mild traumatic brain injury" because they are not life-threatening. However, any injury to the brain is serious and requires immediate medical attention.
You may also experience injuries to your neck, the most common of which is whiplash. This injury happens when the head and neck are suddenly forced forward and backward. This puts immense pressure on the cervical spine and is also known as "cervical acceleration-deceleration syndrome." The biomechanics of the injury can vary depending on the accident, but it is more commonly seen in rear-end accidents.
Finally, there are two common types of spinal injury that you may sustain during a truck accident. The first is a spinal fracture that often occurs in the middle and lower back regions. The impact during the accident can throw you forward while you're restricted by a seatbelt. The stress can cause broken vertebrae.
The second type of spinal injury you may sustain during a traumatic accident happens when the spinal discs absorb much of the direct impact to the spine. This can potentially cause a disc to herniate.
Symptoms of Head, Neck, and Spine Injuries
Minor injuries to the head, neck, and spine may not be present immediately at the time of the accident. However, it is essential that you see a medical provider right away. What initially looks like a minor head or back injury can quickly progress to something more serious.
Your healthcare provider can document your injuries and identify potential problems. However, many times, after an accident with a commercial truck, you will be taken to a hospital in an ambulance. Symptoms of head, neck, and spine injuries depend on the area of the body and severity of the injury. Common symptoms include:
Head
Headache
Nausea and vomiting
Slurred speech
Blurred vision
Loss of consciousness
Memory loss of the traumatic event
Difficulty thinking
Problems sleeping
Confusion
Dizziness
Personality changes
Neck
Mild to excruciating neck pain
Stiff neck
Loss of range of motion in the neck
Upper back pain
Headache
Neck instability
Numbness, tingling, or weakness in one or both arms
Spine
Pain
Muscle spasms or weakness in an extremity
Paralysis or inability to move
Tingling in an arm or leg
Overactive reflexes
Sensation of pins and needles in an arm or leg
Burning sensation in an arm or leg
Loss of bowel or bladder control
You may experience complications from your injury that include the progression of the severity of the injury. When not treated quickly or appropriately, an injury to the head, neck, or spine can develop into a more severe head injury or paralysis.
Types of Compensation Available
After an accident with a truck that is not your fault, you may be owed economic and non-economic compensation. Truck accidents are complicated since there can be more than one entity at fault. In other words, while the truck driver may have been at fault for the accident, the trucking company may also hold some liability.
It is essential that you work with an experienced truck accident attorney who can help discover all liable parties to increase the potential that you receive fair compensation for your injuries.
Economic losses are verifiable and objective. These include medical expenses, lost wages, future medical expenses, and property damage. Non-economic losses are not verifiable and are subjective. These include pain and suffering, disfigurement, loss of companionship, and emotional distress.
Do I Need an Experienced Personal Injury Attorney?
The at-fault party's insurance company will be represented by an experienced and skilled attorney. They fight hard to protect the financial assets of the company. You should be represented, too. Recovering damages from a trucking company is complicated and can be overwhelming. When you hire Tiemann Law Firm, we'll get to work on your case immediately and fight to protect your rights.
We are skilled negotiators and will work hard to get a fair settlement from the insurance companies involved. However, if this is not possible, we are prepared to present your case before the court. We believe strongly that our clients should not be financially responsible for their medical expenses and future losses when someone else was at fault for their injuries.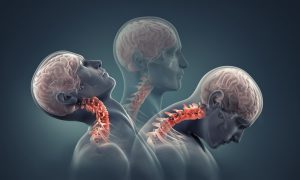 Contact Tiemann Law Firm Today for Help Getting Compensation
If you were injured in a truck accident that wasn't your fault and received head, neck, or spine injuries, contact Tiemann Law Firm today. Our compassionate and experienced attorneys offer a free consultation and case evaluation. When you call (916) 999-9000 and schedule your initial consultation, you meet with one of our experienced attorneys. They will review your case details and offer you advice on your next best steps.