Posted on Saturday, January 1st, 2022 at 7:37 am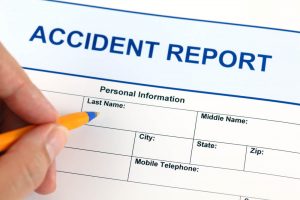 Immediately after a car accident, it's easy to be overwhelmed and in shock. In California, you must report certain incidents to the Department of Motor Vehicles (DMV). If the police attend your accident, the reporting responsibility becomes theirs.
This is true whether the local police department, sheriff's department, or Highway Patrol is on the scene. In this situation, you are not required to complete a separate accident report for the DMV. If you have pressing questions about your case, don't hesitate to contact us today.
When Is a Report to the DMV Necessary After a Car Accident?
After a car accident, Vehicle Code Section 20008 mandates either the driver or a representative of the driver make a written report to the California Highway Patrol or the police department of the city where the accident occurs within 24 hours. You must report the accident to the Department of Motor Vehicles in most situations. These include:
An accident that resulted in injury: If anyone involved in the accident is injured during the accident, it must be reported to the DMV. This can include passengers in your car, other drivers, cyclists, or pedestrians. The degree of severity of the injury is irrelevant. If there's an injury, it's mandatory you report the accident.
Fatality: In the event of a death that occurred from an auto accident, it must be reported to the DMV.
Excessive property damage: If the amount of damage exceeds $1,000, the accident must be reported. Property that can be damaged during an auto accident includes trees, houses, personal possessions, and vehicles. In other words, this includes any possession owned by any individual, whether they were in one of the vehicles or a bystander, that was damaged during the accident.
Technically, you have 24 hours to notify the DMV if a death occurred in the accident. In other circumstances, the time varies according to the details of the incident. For example, if there was no fatality but there was excessive property damage or physical injury, the incident must be reported within ten days.
People who failed to report their accident can face heavy fines and potentially up to one year in jail. While you do have to report a car accident to the DMV, it is not necessary to report your accident to your insurance company. However, without a report, you likely forfeit the ability to receive any financial compensation for damages.
How to Request an Accident Report in California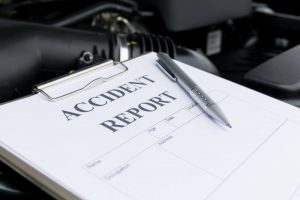 There are three ways to get a copy of your accident report in California:
Using MyAccident.org, you can get the information from the CHP 555 form from your accident. However, it does not include personal information and contact information for the people involved. This is information your personal injury attorney will need.
You may also request a report directly from the California Highway Patrol. You'll need to know the officer who filed the report and the date of the accident. You print a CHP 190 Collision request form from their website and include specific information with applicable fees.
You'll also have to attach a photocopy of your driver's license or another identification card to verify who is requesting the information. You may also notarize your signature on the form with a licensed notary if your identification was destroyed in the accident.
Finally, you can go to the police precinct of the officer who attended the car accident. The report is not usually available until five to seven business days after the date of the accident. You will need to know if it was the California Highway Patrol, local police, or Sheriff's Department that filed a report, and you'll need to request it from the Precinct where the officer was stationed. Contact us today.
Contact Tiemann Law Firm Today for Help Recovering Damages After an Accident
If you were involved in a car accident that was caused by someone else's negligent behavior, you may be entitled to compensation. We understand that no amount of money can reverse the damages you have experienced. However, financial compensation can help pay for your medical bills and lost wages.
The attorneys of Tiemann Law Firm are compassionate and experienced personal injury lawyers who seek to obtain fair compensation for you. Our team is made up of skilled negotiators and tenacious litigators. This means we fight hard for fair compensation from the at-fault party's insurance company and are willing to fight for your rights if a lawsuit is necessary to recover damages for you. One of the documents necessary to prove your case is the police report that law enforcement files after a significant accident.
In California, you have two years to file a lawsuit if you are unable to negotiate a fair deal with the insurance company. This is called the statute of limitations. Don't wait too long after your accident to contact our office. During your free initial consultation, we'll review your case and tell you the next best steps to take. Call us today at (916) 999-9000, or reach out to us online to schedule your free, same-day consultation.