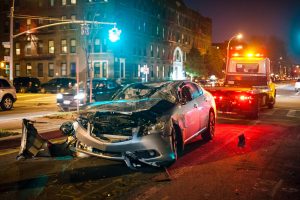 If your loved one died in a car crash due to someone else's negligence, contact the Sacramento car accident lawyers of Tiemann Law Firm today. As a surviving family member, the losses you suffered might entitle you to compensation.
Losing a relative is a shocking and devastating experience. When an unexpected event occurs, and your loved one dies, you must grieve your loss. However, if someone is responsible for causing the car crash that took their life, you face an uphill battle pursuing legal action against the negligent party.
You shouldn't take on the responsibility of a wrongful death claim while coping with the death of your family member and handling funeral arrangements. Let us take over and complete every step on your behalf. We can represent you during your case and guide you through the complex process of pursuing compensation and justice.
Tiemann Law Firm has fought for Sacramento clients since 1998. We know how much your family has suffered since your relative's death. The at-fault driver should be held liable for their misconduct and face the consequences. We are ready to fight for you. We will remain by your side until the end.
Call us at (916) 999-9000, or reach out to us online for a free consultation to learn more about what we can do for you.
Common Causes of Car Accidents in Sacramento
Fatalities can occur in car crashes for many reasons. Although a range of scenarios can lead to someone's death during a car accident, specific factors increase the likelihood of fatal injuries. For example, driving at excessive speeds is dangerous. When two vehicles collide at high rates of speed, the force of the impact is violent and can fatally harm the occupants of each car involved.
The most common causes of deadly accidents include:
Speeding or driving too fast for conditions
Tailgating
Taking turns too fast
Passing vehicles in no-passing zones
Driver distractions, such as texting
Driving under the influence of drugs and alcohol
Merging or changing lanes without checking blind spots
Failing to yield the right of way to another driver, pedestrian, or bicyclist
Fatigued driving
Running stop signs and red lights
Weaving in and out of traffic
Driving the wrong way down one-way streets
If a motorist's actions caused your loved one's death in a car crash, do not hesitate to contact Tiemann Law Firm. We can review the facts of your case and determine whether you're eligible to file a wrongful death lawsuit. The negligent driver should be held accountable for their wrongdoing and compensate you for your funeral expenses, lost financial support, and other losses you and your family suffered.
If you have further questions directly related to your case, contact us as soon as possible.
Common Fatal Injuries in Car Accidents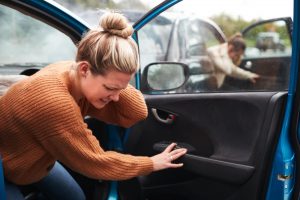 Injuries can happen in any type of collision. Even low-speed crashes and fender benders can lead to minor injuries, such as whiplash and cuts and bruises. However, certain circumstances can cause accident victims to suffer fatal injuries and pass away at the scene or hospital.
The most common fatal injuries caused in car accidents include:
Loss of limb
Severely broken bones
Crush injuries
You have a right to seek compensation from the at-fault driver no matter what type of injury your loved one sustained in the collision. If it resulted in their death and someone else's actions are to blame, you can file a lawsuit with assistance from Tiemann Law Firm.
Parties Entitled to Pursue a Wrongful Death Case
Only specific people can file a wrongful death case after losing a relative in a car accident. According to California Code § 377.60(a), these surviving individuals can pursue compensation in a wrongful death case:
Spouse or domestic partner
Children
Grandchildren
If there isn't a surviving heir in the deceased's line of descent, anyone entitled to property by intestate succession can initiate a lawsuit. That includes the deceased's parents, siblings, and anyone living with them on the date of their death.
Someone who can prove they were financially dependent on the deceased could also bring a wrongful death case against the negligent party. These individuals include:
Putative spouse
Children of the putative spouse
Stepchildren
Parents
Legal guardians if the parents aren't alive
Deadline to File a Wrongful Death Lawsuit
If you want to sue the at-fault party for causing your loved one's death, you must observe the statute of limitations. California enforces a two-year statute of limitations for a person's death caused by someone else's neglect or wrongful act. That means you must file your lawsuit within two years from the date your family member died.
The timeframe does not begin on the date of the accident. If the crash occurred on one day and the victim did not pass away until days or weeks later due to their fatal injury, the statute would expire two years after the date of their death.
Compensation Available for Wrongful Death
Two forms of compensation are available to surviving family. The first includes compensation for economic losses suffered by individuals pursuing legal action. This refers to actual expenses incurred due to the death, such as:
Funeral and burial costs
Lost financial support, including what the deceased would have provided if they survived
The reasonable dollar value of household services the deceased can no longer provide
Loss of benefits and gifts the family could have received from the deceased if they were still alive
The second form of compensation is for noneconomic losses. This involves the emotional or mental impact of the death on surviving family, such as:
Loss of guidance
Lost companionship, assistance, moral support, love, care, society, protection, comfort, affection
Loss of intimacy by a spouse or partner
Contact Us
At Tiemann Law Firm, our Sacramento wrongful death car accident attorneys will provide the legal services you deserve when you retain our firm. We will treat you as a priority and tailor our legal strategies to meet the unique needs of your case.
We know that no amount of money can make up for the loss of your loved one. However, we hope the compensation we secure for you can relieve your financial burdens and help you move forward with your life. We want you to get the justice you and your family deserve.
If you lost your loved one in a car accident due to someone's negligent actions, call Tiemann Law Firm at (916) 999-9000, or reach out to us online for your free consultation.