Sacramento Attorneys for Burns from Car Accidents
A car accident can result in many different types of injuries. Each car crash is unique and, based on the specific circumstances, burns could be among those injuries. If you've sustained burns in a car accident in the Sacramento area that was not your fault, you may be entitled to compensation.
Call the Sacramento car accident attorneys of Tiemann Law Firm today at (916) 999-9000 for your free consultation to discuss your case with one of our personal injury attorneys. You should not have to pay for an injury that was not your fault. Let us take over your insurance claim or lawsuit and put your mind at ease so you can focus on recovering and rebuilding your life. If you have questions specific to your case, don't hesitate to reach out to us today.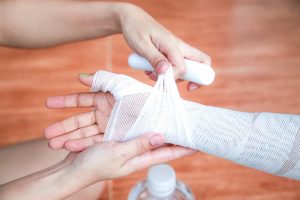 Types of Burns
Most medical resources recognize four degrees of burns. They are listed below from the least to the most severe classification:
First-Degree
This type of burn is also called 'superficial,' meaning that only the outer layer of skin (the epidermis) is affected. Symptoms may include red and sensitive skin without blisters. A first-degree burn can often be treated with first aid and will heal relatively quickly compared to the other three types. It is rare for this type of burn to result in long-term damage to tissue.
Second-Degree
This type of burn affects the epidermis as well as the second layer of skin (the dermis). Symptoms are more severe than those of a first-degree burn and may include blisters, swelling, and significant pain. Second-degree burns take longer to heal than first-degree burns. There may be a risk of scarring or infection, and it is more likely that medical attention is required as compared to a first-degree burn.
Third-Degree
This type of burn is much more severe than the prior two types. Both the epidermis and the dermis are destroyed. The innermost skin layer (the subcutaneous tissue) may be affected, and there may also be nerve damage. Depending on the extent of any nerve damage, the pain associated with a third-degree burn may be relatively low. Skin surgery or grafting may be required, and the recovery process is often lengthy, possibly involving ongoing medical care or therapy. There may be permanent damage to blood vessels, nerves, or skin tissue. Hospitalizations and medication may also be required for this type of burn.
Fourth-Degree
This type of burn is a critical injury that requires emergency medical treatment. All layers of skin are destroyed, and underlying tissues, as well as muscle and bone, may be affected. Nerve endings are destroyed, and a fourth-degree burn may even be fatal. For non-fatal fourth-degree burns, the subsequent medical care is usually extensive and painful.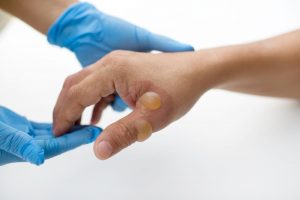 Causes and Treatment
Burns as a result of a car accident can occur from multiple situations, such as exposure to toxic chemicals, extreme heat, or contact with an electric current. The extent or severity of a burn may not be immediately apparent because it may take time for blisters to develop or for skin tissue to die. The sooner a burn victim receives medical treatment, the better their chances for survival and eventual recovery.
Burns may involve other complications, such as infection, permanent scarring, and in some cases, amputation. Beyond the physical considerations, burn victims may also require extensive therapy due to the trauma experienced and the impact of burns on an individual's life. Long-term care may include pain medication, plastic surgery, antibiotics, other surgery, and special diets.
Who Is Responsible?
Each injury is as unique as the circumstances and situation surrounding the injury. Determining responsibility may not be straightforward because multiple parties may be involved. These may include drivers, vehicle manufacturers, and trucking companies. There is a significant amount of evidence and documentation to collect that will be used to build the case. You need a legal team that is familiar with the data they need to collect and analyze so that all evidence is collected and preserved in a timely manner.
Compensation
The cumulative toll on a burn victim can be staggering. Beyond the monetary costs, it can be a challenge just to make it through the recovery for a third- or fourth-degree burn. The last thing that should be on your mind at this point is how you're going to pay for your medical bills and other expenses. A personal injury attorney can guide you through the process of obtaining compensation. They can advise you about all the expenses, financial and intangible, for which you may be entitled to recover money. These may include lost wages, future earnings, pain and suffering, emotional distress, future medical treatment, and physical therapy.
We will build the strongest possible case on your behalf and will pursue the maximum financial amount that may be legally yours. We will carefully evaluate all settlement offers, and we will not agree to any lowball offers. We will handle all negotiations on your behalf, and we will be prepared to take the case to court if negotiations are unsuccessful. Our track record and our satisfied prior clients are the best evidence we can provide to show that we have done this successfully many times before. Reach out to us today, we are ready to bring the same level of tenacity to your case.
Contact Us Today
If you've been burned in a car accident that wasn't your fault, you may be entitled to compensation. Call us now to speak about your case and receive your free consultation. You don't have to do this alone, and you don't have to be overwhelmed by everything that you're facing. Let us bring our experience and understanding to bear on your case.
Call Tiemann Law Firm today at (916) 999-9000 to discuss your options with a member of our legal team. We can answer any questions you may have so that you know what to expect and where to go from here. The time after an accident is crucial. We need to make sure that all documentation is obtained in a timely manner and all evidence is preserved. We will build the strongest possible case to pursue the maximum amount of money that you deserve so that you can put this tragedy behind you and move on with your life. Contact Tiemann Law Firm today!