Sacramento Attorneys for Road Rash from Car Accidents
Whether you're riding in a convertible and feeling the breeze on your face and the wind blowing across your body or you're driving in comfort in an air-conditioned auto, being injured in a car crash is never the end of the rid you intend. Even worse, if you find that you've been thrown from the car or dragged along the ground, you may feel the sensation of asphalt tearing through your clothes or skin.
It's commonly called road rash. Although you usually expect to hear about motorcycle riders getting road rash, it can happen to the occupants of cars, too. An injury of this sort isn't funny at all. Road rash can be a serious injury. Roads aren't known for their cleanliness, and a deep road burn can leave scars and require skin grafts.
Road rash might better be thought of as a burn because if it is large enough, a patch of road rash looks more like a huge second-degree burn. It is also possible for your clothing to become melted or embedded into your skin, just as it would in a fire.
If you got a bad case of road rash from a car accident that was someone else's fault, you need the services of a Sacramento car accident attorney. Tiemann Law Firm wants to see you get the compensation you deserve for a painful and potentially disfiguring injury. Call us at (916) 999-9000 or reach out to us online to see how we can help get you compensation for your injuries.
What Is Road Rash?
Medically speaking, road rash is an "abrasion," a type of superficial open wound that occurs when the top layers of skin are scraped away by contact with a hard surface, like a road. Like a burn, an abrasion damages the protective outer layers of the skin, exposing nerve endings, blood vessels, and opening the skin to infection. Abrasions can heal by themselves if they are cleaned and bandaged.
Deeper injuries are called "avulsions." In this sort of injury, a flap of skin and tissue is peeled away, exposing fat, muscle, and even bone below the skin. Avulsions can happen if there is a projection on the surface, such as a nail or bit of metal, which catches the sliding body. Avulsions are serious injuries that require stitching. They will leave scars and may cause nerve damage or partial loss of the use of the limb if the avulsion is deep enough.
Because dirt and debris can be ground into the tissue, abrasions are prone to infection. It can be hard to get all the bits of dirt out, and roads are covered with all kinds of unsavory bacteria. If you do not get your road rash treated in a hospital, you should wash it with antiseptic soap and bandage it carefully. Monitor the wound closely for signs of redness, swelling, or pus in and around the wound site. See a doctor at once if there is any sign of infection or if you see red streaks moving away from the wound.
If you have any questions about your case, feel free to contact us immediately.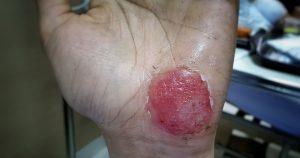 Road Rash as a Personal Injury Claim
There is a tendency to take road rash lightly. Even the name sounds amusing. But as mentioned above, it can be serious and even life-threatening. Road rash on your face could result in scarring and disfigurement and could require reconstructive surgery. It can be as serious as a second- or third-degree burn, and your body will react in the same way.
For these reasons, you should deal with your road rash following an accident just as you would if you had broken a leg or received any other injury.
Seek medical attention. Even if you think it's "just road rash," you should have the wound documented and treated by a medical professional. You may also need a tetanus shot because of the road conditions, so you may as well see the doctor.
Document the accident site and the conditions. Get as much information as you can, just as in any accident or hit and run situation. Take pictures of the scene, your vehicle, the other vehicle, your injuries, the weather conditions, the road surface, and anything else that could help to explain the accident.
If there is a police report, get a copy. Try to get any witness information, especially if the other driver is not at the scene. Having statements from people who witnessed the incident can be critical to proving your case later.
Be sure to contact your own insurance. This is important. California law prohibits accident victims from recovering some types of damages if they do not have insurance, and a failure to report your accident to your own insurance may be taken as proof you did not have it. Let your insurance company know what happened.
Gather all your documents and other information and contact an attorney who understands car accident claims. Even if it was "just road rash," you need someone who knows what compensation the law says you're entitled to review your case. When you call Tiemann Law Firm, the consultation is free.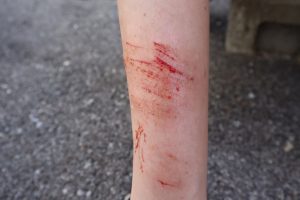 How We Can Help
In California, you have two years from the date of injury to file a claim for personal injury. So, if it was just a little road rash and everything heals without a problem, that's great. But if you're left with a painful scar that needs plastic surgery to repair, then you need someone to fight for your rights. You need Tiemann Law Firm to put your documents together into a solid case for you.
Proving that your injuries were caused by your accident is a matter of establishing the timeline, so the more documentation you have, the better. On the other hand, if you wait till just before you want to sue, it's often too late, and everyone has forgotten what happened.
By calling Tiemann Law Firm at (916) 999-9000 right after the accident, we can make sure that everything is documented the right way, the forms are completed, and everything is ready when you need it. Call us right away or contact us online if you got road rash from a car accident and need legal advice. Our team is standing by ready to hear from you.