If you suffered a bone fracture in a car crash, you should contact Tiemann Law Firm immediately. We can review the details of the accident to determine who was at fault and whether you deserve compensation for your injuries. We might be able to recover the money you're owed to compensate you for your medical treatment, lost wages, and other incurred costs.
A broken bone is a painful injury. It can also cause a range of complications, such as a limited range of motion. Even a minor break might require medical attention, leading to expensive medical bills. Additional challenges can arise if you need to take time off from work to recover and can't earn your usual income. The costs you incur could be significant and lead to crushing debt if you can't afford to pay.
The Sacramento car accident attorneys of Tiemann Law Firm know the uphill battle you face following a car crash. It causes major life disruptions and interferes with your daily routine. You shouldn't have to spend your time working on an insurance claim to seek the compensation you need to recover. We can take on the responsibility of your case, so you can focus on healing.
For a free consultation to learn about your legal options, call us today at (916) 999-9000 or contact us online.
Types of Bone Fractures
Various types of fractures can occur depending on the location of the injury and the direction of the break. The different locations of fractured bones include:
Distal – Further from the center of a body part
Anterior – Area of the body towards the front
Posterior – Part of the body towards the back
Lateral – Parts towards the outer area of the body
Proximal – Close to the center of the body
Medial – Towards the middle of the body
The directions of a fracture in a bone include:
Oblique – At an angle
Transverse – Across the bone
Comminuted – Multiple broken fragments
Spiral – Extends or spirals along the length of the bone
Bones Commonly Broken in Car Accidents
Some bones are more susceptible to fractures. Bones can weaken over time from consistent force or trauma to specific body parts. A car crash can also lead to fractured bones from the sudden stopping motion or the body hitting a part of the vehicle or becoming struck by flying debris.
The most common bones broken sustained in car accidents include:
Feet
Collarbone
Arms
Wrists
Hip
Toes and fingers
Ankles
Legs
If you fractured any bones during a collision with another motor vehicle, you should reach out to Tiemann Law Firm to discuss what we can do to help. We could hold the at-fault driver liable and recover the compensation you need to heal.
Treatment Options for Fractured Bones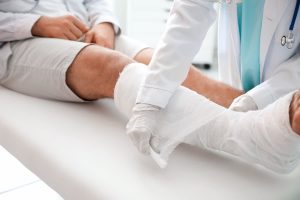 The treatments available for fractured bones depend on various factors, including the location of the break and the severity of the injury. Typically, accident victims need imaging tests to determine the necessary medical care for a broken bone.
If you suffered a displaced fracture, meaning the bone snapped and the different parts separated from each other, a doctor would need to position them back in place. Surgery might not be necessary if the physician can immobilize the body part using a cast or splint. However, a severe fracture could require surgery to set the bone with pins, screws, or rods.
Minor fractures of a bone in the toe or finger typically don't require much medical intervention. Your medical provider might recommend rest to avoid additional damage to the bone. You could also wrap your finger or toe with the one next to it to prevent it from moving. If you have pressing questions about your case, don't hesitate to contact us today.
Complications of Fractured Bones
Some fractures don't heal correctly or lead to long-term problems. The most common complications of broken bones include:
Sores developing from wearing a cast
Stiff joints
Infections
Damage to the blood vessels and nerves
Blood clots
Swollen muscles
Pain and swelling from a bleed into the joint
You should seek immediate medical care following a car accident. The emergency room physician can diagnose a fractured bone and advise you about the necessary treatment plan for recovery. If someone else was responsible for the crash, you should speak with Tiemann Law Firm to determine whether the at-fault driver should be liable for your medical bills and other expenses.
Compensation Available for a Fractured Bone
California is a fault state. That means the driver that causes an accident could be held financially responsible for the injured party's losses, such as:
Physical impairment or disfigurement
Medical expenses
Emotional distress
Loss of enjoyment of life
Property damage
Lost wages
Lost earning capacity
Pain and suffering
You could file a claim with the at-fault motorist's auto insurance company to compensate you for the losses you suffered. State law requires all drivers to carry liability coverage with these minimum limits:
$15,000 for bodily injury to one person
$30,000 for bodily injury to more than one person
$5,000 for property damage
If the insurance company denies your claim or provides a low settlement offer, you could pursue a lawsuit. In a lawsuit, you might be able to seek exemplary damages. This form of compensation punishes the defendant for their actions. A jury might award this to you if you can provide clear and convincing evidence of the negligent driver's fraud, malice, or intent to oppress you.
Deadline to File a Lawsuit
You must follow a statute of limitations if you want to file a lawsuit. California has a two-year statute of limitations. That means you have to initiate your lawsuit within two years of the crash date if you want to pursue compensation for your fractured bones through the courts. Once the deadline passes, you likely won't be allowed to sue the at-fault driver.
Contact Us
At Tiemann Law Firm, we have fought on behalf of car accident victims since 1998. We will provide dependable representation and services until the end of your case when you hire us. We understand the trauma you experienced since suffering a fractured bone. You can depend on us to fight by your side for the maximum compensation you deserve.
If someone else's negligence caused your fractured bones in a car crash, do not hesitate to contact Tiemann Law Firm. One of our Sacramento fractured bone injury attorneys can meet with you for a free same-day consultation to review your case and advise what we can do to secure the money you're owed. Call us at (916) 999-9000, or reach out to us online today.