Defensive Driving vs Distracted Drivers
Posted on Friday, August 27th, 2021 at 3:13 pm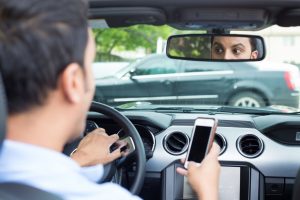 We all know that texting while driving is both dangerous and illegal. Recent studies show that 1.6 million annual car crashes are attributed to someone using a cell phone while driving, and 14% of all fatal motor vehicle accidents involve cell phone usage. With these statistics in mind, there is no doubt there are distracted drivers on the road. A defensive driving mindset is necessary. Being aware of distracted drivers is your first line of defense.
Here are some tips for recognizing a distracted driver, increasing your ability to avoid them, and an accident:
Erratic Driving and Failure to Maintain a Consistent Speed – If you notice a driver swerving or an inconsistent speed, it may be a hint that the driver is texting or otherwise using their cell phone. Keep a safe or increased distance between you and that driver, do not pass. It's best to let them continue ahead of you.
Ignoring Stop Signs and Lights – Chances are if you must slightly tap on the horn to alert the person in front of you that the light has changed, that they are most likely on the cell phone. You may notice from their mannerisms, for example, seeing them look down or off to the side. Again, give that driver more space, avoiding any of their erratic maneuvers.
Neglecting to Use Turn Signals – when a driver makes a turn without their turn signal, this is another sign that they are a distracted driver.
Looking Downward or Holding a Cell Phone – whether driving on backroads or the highway, if you come upon a driver who is texting or holding their phone, this is a warning to keep your distance and be extra alert.
Regardless of the reason, texting while driving is illegal and dangerous. Yet, it is reality and part of our driving environment.
Have you been a victim of a vehicle accident caused by a distracted driver? Contact an experienced lawyer today. They will help you navigate the complex legal system and get the compensation you and your family deserve.
Have you or a loved one been a victim of a distracted driving accident? If so, Tiemann Law Firm can help. Our experienced Sacramento distracted driving accident lawyers will fight for the compensation you deserve. Contact us today for a free, same-day consultation by calling (916) 999-9000.