Attorneys for Truck Accidents Caused by Poor Driving Performance in Sacramento
If a truck driver's poor driving performance resulted in your injury in a truck accident, do not hesitate to contact Tiemann Law Firm. We could represent you in your case and seek the compensation you're entitled to. You should not have to pursue legal action against the negligent trucker or their employer alone.
Poor driving performance can involve numerous scenarios. From tailgating and speeding to sudden braking and unsafe lane changes, a truck driver's carelessness can lead to an accident. Since commercial trucks are massive, they require experience and skill to operate. If a trucker isn't paying attention to what they're doing, they could lose control and collide with a nearby car.
At Tiemann Law Firm, our legal team knows how much you have suffered since the collision. Injuries in accidents involving commercial trucks are often debilitating or life-threatening. You likely required ongoing medical treatment to heal. If you took time off from work, you couldn't earn a living. That might have left you with expensive medical bills you couldn't afford.
We want to help you recover from this traumatic experience and get your life back on track. We are ready to help you fight for the compensation you need to cover your medical bills and other costs. Let us take on the responsibility for your case so you can focus on what matters most – healing your injury. You can count on us to complete every step of the process on your behalf and aggressively seek your desired outcome.
To get your questions answered with a free consultation with an experienced Sacramento truck accident attorney from Tiemann Law Firm, call (916) 999-9000 today or contact us online.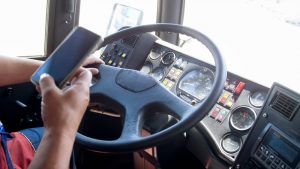 Common Causes of Truck Accidents
Poor driving performance is a broad term. It involves a driver's poor decision-making or judgment at the wheel of a vehicle. When a truck driver performs poorly while operating a commercial truck, the consequences can be deadly.
Poor driving performance can refer to a range of behaviors, such as:
Drowsy driving
Speeding or driving too fast for conditions
Tailgating
Unsafe lane changes
Failing to check blind spots before merging
Taking a turn too fast
Improper or sudden braking
Failing to yield to others
Distracted driving
Driving under the influence
The truck driver could be held liable for the injury you sustained in the crash. It's critical to hire a lawyer from Tiemann Law Firm immediately after the accident. We can start working on your case while you take the time to attend your doctor's appointments.
Compensation Available for Truck Accident Injuries
The Federal Motor Carrier Safety Administration enforces federal regulations for individuals in the trucking industry. All motor carriers must buy and maintain insurance coverage for their trucks. Liability limits are available for the weight of the truck and type of cargo. For example, if a truck is less than 10,001 pounds and transports non-hazardous materials, the liability limit must be $300,000.
If you file an insurance claim, you could seek a settlement to compensate for losses suffered in the accident, such as:
Lost wages
Lost earning capacity
Pain and suffering
Medical expenses
Loss of enjoyment of life
Physical impairment or disfigurement
Mental anguish
Property damage
Insurance companies are in the business of making and saving money. You might think they're on your side, but they want to avoid a high settlement. They will likely offer a low amount and hope you'll accept so they can close out your claim quickly. However, you have other options if the insurance carrier provides an insignificant offer or denies your claim.
You could proceed with a lawsuit and pursue compensation for your losses. Exemplary damages are also available in a lawsuit. This financial award punishes the defendant for their actions and deters similar misconduct in the future. You must show clear and convincing evidence of the defendant's malice, fraud, or oppression for a jury to make this award to you.
Statute of Limitations for Truck Accidents
There is a deadline you must follow if you want to sue the truck driver for causing your injury. California has a two-year statute of limitations. That means you must file your lawsuit within two years of the crash date if you want to recover compensation for your losses. However, once the deadline passes, you lose your right to seek legal action in civil court.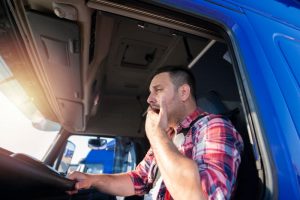 How Tiemann Law Firm Can Help
At Tiemann Law Firm, our legal team knows how to investigate truck accident cases and determine who is at fault. We will thoroughly review all available evidence and build a case to prove the truck driver should be held responsible for the harm they caused. Whether you want to file an insurance claim or lawsuit, we will handle every step, so you don't face the burden of building a case yourself.
We can gather the necessary evidence to show what happened, so we can secure the compensation owed to you. The evidence we obtain will depend on the circumstances of your case but could include:
Statements from eyewitnesses
Police reports
Copies of your medical records and bills
Traffic camera footage
Photos from the accident scene
Repair estimates for the damage to the vehicles
Truck driver's employment history, criminal record, and past accident reports
We understand the overwhelming feeling of dealing with a case while treating injuries. You should not have to take on both tasks. Let us take over the legal aspects so you can spend your time and attention on getting better. We will guide you through every step and offer the support you need to get through this devastating experience.
Contact Us
Tiemann Law Firm always treats our clients with the utmost respect, compassion, and professionalism. You will receive personalized attention from the second you hire us. We understand the importance of having a trusted and dependable legal team on your side. You can count on us to tirelessly work to meet your needs and try to reach the best result possible in your case.
If a trucker's poor driving performance caused your injury in a truck accident, call Tiemann Law Firm at (916) 999-9000, or reach out to us online for a free consultation today. For over two decades, our dedicated attorneys have fought for the rights of injured clients in Sacramento. Let us help you seek the justice you deserve.