Posted on Tuesday, September 18th, 2018 at 11:08 pm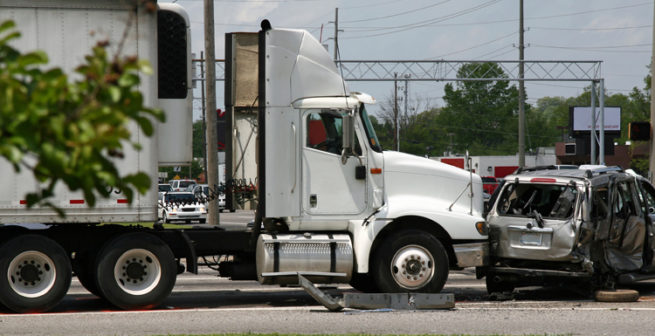 Commercial trucks provide an extremely important service. These large vehicles make it possible to move enormous quantities of goods across the country effectively and affordably. However, commercial trucks can be extremely deadly for other motorists and their passengers.
The number of people who died in large truck accidents increased by just over five percent in 2016. Of the 4,317 people who died in truck accidents during 2016, eighty-three percent (83%) were occupants of other vehicles or non-occupants, such as bicyclists or pedestrians.
Only seventeen percent (17%) of the fatalities in large truck accidents were occupants of a large truck. One reason for the extreme difference in numbers is that a passenger vehicle simply cannot withstand the impact of a collision with a vehicle that is so much larger than the passenger vehicle. In addition to the fatalities, large truck accidents injury thousands of people each year.
Below are some of the most frequently asked questions about California commercial truck accidents.
Who is responsible for a large truck accident claim?
The factors that contributed to the cause of the cash determine who is liable for damages. If the truck driver was negligent, the driver might be held liable. However, the truck company might be liable too. In some cases, a shipper, parts manufacturer, construction crew, repair shop, or government entity could be liable. An experienced truck accident attorney investigates the crash to establish fault and liability.
Can I recover compensation for my expenses?
If another party caused the truck accident, California personal injury laws provide a way for you to recover compensation for damages. You might receive compensation for medical bills, lost wages, property damage, physical pain, mental anguish, and emotional suffering. If you are permanently impaired, you can receive compensation for your disability and future damages.
When will I receive money for my claim?
Each injury claim is different. The amount of time your case remains open depends on several factors. It is not wise to settle a claim before you finish treatment. You need to ensure that you have recovered fully or that you understand the severity of your disability before accepting a settlement offer. Once you accept the settlement offer, you cannot recover additional compensation even if you discover another injury or incur additional expenses.
How much is my truck accident claim worth?
The value of your claim also depends on several factors. Your financial damages are one component you must consider. The total of your medical expenses, loss of income, and other out-of-pocket expenses are one factor. In addition to financial damages, you can receive compensation for your non-economic damages. Your "pain and suffering" damages include physical pain, mental anguish, emotional stress, and permanent disabilities. Your Sacramento truck accident lawyer uses all evidence and facts to maximize the amount of compensation you might receive for your injury claim.
Call The Tiemann Law Firm for More Information About Truck Accident Claims
You probably have many more questions about filing a truck accident claim. Our Sacramento truck accident attorneys answer your questions during a free consultation. Dealing with the aftermath of a truck accident can be overwhelming. Our lawyers provide guidance, support, and legal advice to help you get through a difficult time.
Call Tiemann Law Firm at (916) 999-9000 or visit our website.