ARE SLIP AND FALL INJURIES SERIOUS ENOUGH TO CALL A SACRAMENTO SLIP AND FALL LAWYER?
Posted on Monday, May 18th, 2020 at 1:00 am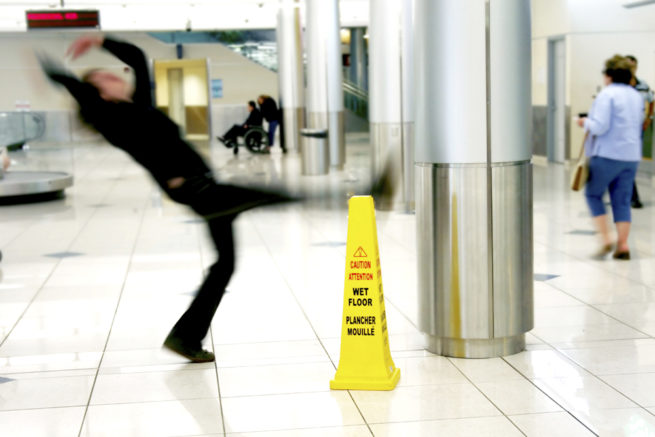 Slip and fall injuries can range from a few bumps and bruises to serious, life-threatening injuries. The type and severity of injuries depend on the circumstances of the fall. When a fall is the result of negligence or wrongdoing, a victim may have a claim against the property owner for damages.
Regardless of the severity of your slip and fall injuries, it is a good idea to call a Sacramento slip and fall attorney. An attorney evaluates your case to determine if you have a legal cause of action against the property owner or another party. A slip and fall lawyer helps you file a claim seeking compensation for your injuries and damages.
Common Slip and Fall Injuries
Some types of injuries are common in slip and fall accidents. Injuries that a person may sustain from a fall include, but are not limited to:
Treatment for spinal cord injuries depends on the injury. Some victims may be able to recover at home with rest and time. However, some slip and fall victims may require surgery, intensive physical therapy, vocational therapy, and other treatment.
What Should I Do After a Fall On Someone's Property?
The steps you take after a fall can impact your ability to recover compensation for your injury. Even if you do not believe you are seriously injured immediately after your fall, take steps to protect your legal rights:
Report the fall immediately to the property owner or a person in charge.
If individuals witnessed your fall or assisted you after the fall, ask them for their names and contact information.
Ask someone to call for medical assistance.
If you do not go to the emergency room, see your doctor as soon as possible. Documenting your injuries is vital for recovering compensation for slip and fall injuries.
Take photographs of your injuries, if applicable.
Place the clothes and shoes you were wearing in a secure container. They could be evidence.
Document your damages carefully. Keep copies of all documentation, reports, bills, and receipts.
Before discussing your claim with an insurance adjuster or the property owner, talk to a Sacramento slip and fall attorney. Avoiding providing a statement or signing documents until after speaking with a lawyer.
Filing a Slip and Fall Claim
Your attorney investigates the accident to gather evidence proving that the property owner was negligent in maintaining the property. Proving the property owner was negligent proves that the owner is liable for your damages.
Property owners have a duty of care to maintain their property so that it is safe for guests and visitors. If the owner knew or should have known about a hazard and did nothing to warn visitors or correct the hazard, the owner breached that duty of care. Breaching the duty of care can make the owner responsible for your injuries.
An attorney works with the insurance provider for the property owner to settle your injury claim. If the insurance provider or property owner refuses to negotiate a fair settlement, your attorney may advise filing a slip and fall lawsuit to protect your rights.
Contact a Sacramento Slip and Fall Injury Attorney for More Information
Call The Tiemann Law Firm at (916) 999-9000 to schedule a free consultation with one of our Sacramento slip and fall lawyers.