Posted on Monday, March 11th, 2019 at 10:39 pm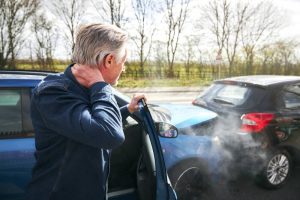 Whiplash injuries are commonly associated with rear-end car crashes. However, you can sustain whiplash and other soft tissue injuries from any type of collision. Unfortunately, these types of car accident injuries are often treated as "minor" or "exaggerated" injuries by insurance companies. Our Sacramento car accident attorneys help whiplash victims recover the compensation they deserve after an injury.
In this article we discuss:
What Is Whiplash?
How Can I Tell If I Have Whiplash?
Why Can Whiplash Claims Be More Difficult To Settle?
What Can I Do To Help My Attorney With My Whiplash Claim?
Do's And Don'ts Of A Whiplash Insurance Claim
What Is Whiplash?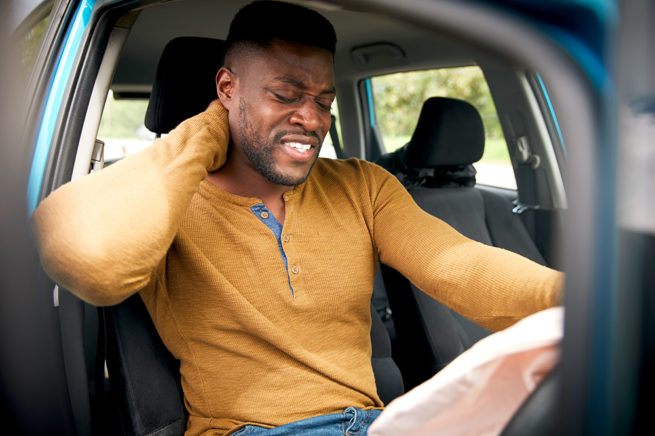 Whiplash is most often associated with a car accident. However, a person may develop whiplash from any blow to the head or jolt to the head that causes the head to "jerk" forward and backward in a "whipping" motion, such as a fall, contact sports, bicycling injuries, abuse, or even amusement park rides. It is called whiplash because of this sudden, violent whipping motion of the neck and head. When your head suddenly jerks forward and backward, the motion stretches the tendons and muscles in your neck. In some cases, the force of the movement can cause tears in the muscles, tendons, and ligaments in the neck. Some individuals may experience immediate pain; however, it could day hours or days for the stiffness and pain to become uncomfortable or unbearable for someone. Even though whiplash is considered a relatively mild injury, some cases of whiplash can cause long-term impairment and chronic pain. Some accident victims may develop complications from whiplash. Therefore, it is extremely important that accident victims recognize the symptoms of whiplash and see a doctor for diagnosis and treatment.
How Can I Tell If I Have Whiplash?
The symptoms of whiplash usually develop within a day of the injury, but some individuals with a high tolerance for pain may not realize how severe the injury may be for a few days following the accident. Whiplash symptoms may include:
Stiffness and pain in the neck and/or shoulders
Loss of range of motion when you try to turn your head or move your neck
Pain that increases with neck movement
Headaches that may begin at the base of the skull
Fatigue or sleep disturbances
Dizziness, blurred vision, and/or ringing in the ears
Numbness or tingling in the arms
Pain or tenderness in the arms, shoulders, or upper back
Difficulty with concentration or memory
Depression or irritability
Whiplash can often be treated with time, rest, non-steroidal anti-inflammatory medications, and ice packs. However, additional treatments may be necessary if the pain, stiffness, or impaired range of motion continues. A doctor can perform a physical examination and other diagnostic tests to determine the extent of the injury. Depending on the severity of the symptoms, a doctor may perform x-rays, magnetic resonance imaging (MRI), or computerized tomography (CT scans) to determine the extent of damage caused by the whiplash. Other forms of treatment that might be prescribed to treat whiplash include:
Muscle relaxants
Prescription medications
Injections
Exercise
Physical therapy
Cervical collars
It is important to remember that each case of whiplash is different. The individual's health conditions and other factors may also impact the severity of the injury. As with any car accident injury, it is usually a wise decision to see a doctor for an examination as soon after the crash as possible to diagnose the full extent of injuries sustained in the accident. Prompt medical treatment can help reduce the risk of long-term complications and permanent impairments after a car accident.
Why Can Whiplash Claims Be More Difficult To Settle?
Injuries to the muscles, ligaments, or tendons anywhere in the body are referred to as soft tissue injuries. These injuries include strains, sprains, and whiplash. Even though soft tissue injuries can cause severe pain and long-term impairments, these injuries are often overlooked and underestimated. Some of the reasons it can be difficult to recover full compensation for a whiplash injury include:
Whiplash can be difficult to diagnose. Because there no outward signs of trauma, a physician must rely on the symptoms reported by an accident victim. A victim may experience severe pain even though diagnostic tests do not reveal substantial damage. Because the pain and symptoms are subjective, insurance companies often claim that accident victims are exaggerating their symptoms to recover a larger settlement.
Whiplash symptoms may not be present for several days after the initial trauma. A person may attempt to treat the symptoms at home before seeing a physician. The delay in symptoms and the delay in medical treatment is used by an insurance company to argue that the injury was not sustained in the accident. The adjuster may argue that if the victim had been injured, he or she would have sought medical treatment immediately.
There is a history of fraud related to whiplash and other soft tissue injuries. Unfortunately, some people make false claims after car accidents. They use whiplash and other soft tissue injuries as a way to recover compensation because they understand that it is difficult to prove or disprove the severity of pain and impaired motion. Because of a few individuals seeking to take advantage of the claims system, insurance companies have become wary of whiplash claims.
Even though a soft tissue injury may not result in outward trauma, that does not mean an individual is not in pain. Chronic whiplash can result in a lifetime of pain and reduced range of motion. Therefore, it is important to treat any neck injury seriously. Seeking medical treatment and consulting with a Sacramento personal injury lawyer can help you protect your right to recover the compensation you deserve for a whiplash injury.
What Can I Do To Help My Attorney With My Whiplash Claim?
Seeing your doctor and calling your attorney are two of the best ways to help your attorney with a whiplash claim. However, because whiplash injuries can vary greatly, it can also be very helpful to keep a daily journal recording your daily struggles after the car crash. Things to note in your journal include:
Your pain level each day, including the level of stiffness and limited motion. Make sure you give detailed examples and descriptions. For instance, rate your pain level on a scale from 1 to 10 and state how far you can raise your arms or turn your head.
Keep a detailed list of the tasks you are unable to perform each day because of the injury. For example, you need help getting dressed, you cannot pick up your child without pain, or you cannot perform certain household chores.
If you miss family or work functions because of the injury, make sure you note these in your journal with the date and reason you could not attend.
In addition to the pain, make sure you list all related symptoms and the severity of those symptoms. If your doctor prescribes a certain treatment, make notes about whether the treatment helped or failed. If the treatment helped, how did it help?
A whiplash injury claim is based on medical evidence; however, your detailed notes can help your attorney demonstrate how your neck injury severely impacted your life.
Do's And Don'ts Of A Whiplash Insurance Claim
Several do's and don'ts of a whiplash insurance claim include:
DO SEE AN ATTORNEY as soon as possible after your accident. An attorney can help you avoid mistakes that could hurt your chance of recovering compensation.
DO see a doctor as soon as possible and follow your doctor's instructions.
DO report your symptoms to your doctor truthfully. Resist the urge to exaggerate, but also resist the urge to understate your symptoms
DON'T return to work or normal activities until your doctor advises you to do so.
DON'T provide the insurance company with a written or recorded statement until you meet with a Sacramento personal injury lawyer.
DON'T sign a medical release form for the insurance company.
DON'T post on social media accounts without consulting with an injury lawyer. Insurance companies often use this information to claim you were not injured as severely as you claim.
DO refrain from discussing your injuries with friends or family members, other than immediate family members who are helping with your care.
DO keep a daily journal recording your pain level and other details about your recovery.
DO keep receipts and records of all expenses and financial losses.
DON'T accept a settlement offer without discussing the offer with a Sacramento personal injury attorney. You may be entitled to additional compensation.
Contact a Sacramento Car Accident Attorney About Your Whiplash Injury
If you have been injured in a motor vehicle accident, our attorneys can help you file an insurance claim to hold the person responsible for the crash liable for your damages. To find out more about accident claims and the compensation you might be entitled to receive, call Tiemann Law Firm at (916) 999-9000 for your free consultation with our car accident attorneys. We do not charge anything for your first visit, and most personal injury cases are accepted on a contingency fee basis.