Posted on Thursday, January 20th, 2022 at 4:16 pm
Distracted driving is a dangerous problem in the United States. When a collision involves a passenger car and commercial truck, the consequences can be deadly. According to statistics, 3,142 people died in accidents involving distracted driving in 2019.
Texting while driving is one of the most common distractions exhibited by motorists. Although federal regulations prohibit truck drivers from using their cell phones while operating their trucks, many engage in this reckless behavior anyway. This considered, texting isn't the only form of driver distraction. Distracted driving comes in many forms, all of which increase the risk of an accident.
Pursuing compensation from a trucking company can be a significant challenge. Unfortunately, many accident victims don't understand the legal process and state laws they must follow during a claim or lawsuit. It's often difficult to prove a truck driver's actions contributed to a crash without substantial evidence.
It's crucial to consult an experienced lawyer to help you prove distracted driving was a factor in the crash you were involved in. If you were injured due to the negligent actions of a distracted driver, an experienced attorney can help you fight to recover the money you're owed.
What Is Distracted Driving?
Before explaining how to prove a distracted truck driver is liable for your injuries, you must understand what constitutes distracted driving.
Distracted driving involves any activity that takes a driver's attention away from the task of driving. When motorists aren't focused on the road ahead, they likely won't notice a dangerous condition. It's more challenging to react appropriately to road debris, stopped traffic, or adverse weather if the driver isn't paying close attention to their surroundings.
Three types of distractions could result in an accident with a commercial truck:
Manual distraction – The driver takes one or both hands off the wheel to perform another task
Cognitive distraction – The motorist's attention or focus isn't on operating their vehicle
Visual distraction – The driver's eyes look away from the road ahead to something else
Common examples of distracted driving include:
Drinking
Turning to look at someone in the vehicle
Reading or sending a text
Watching a video on a digital device
Eating
Daydreaming
Smoking
Reaching for an item in the backseat
Looking at a GPS or map
Reading the newspaper
Yelling, honking the horn, or engaging in another act of road rage
Changing the radio station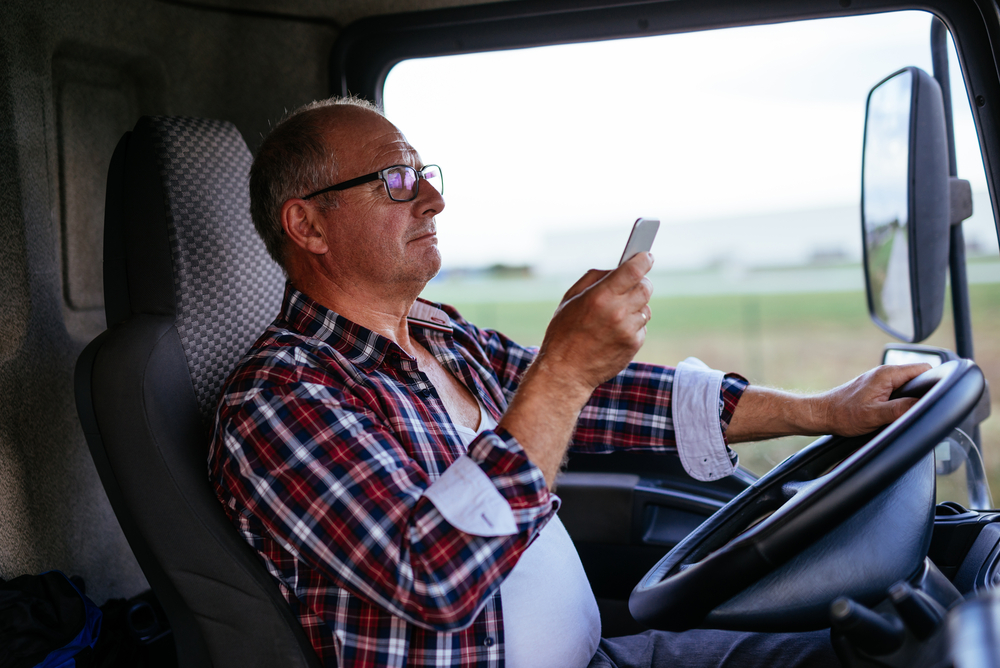 Proving Truck Driver Distraction Caused the Accident
When you file a claim, you must prove the truck driver became distracted while operating their truck, resulting in the collision and your injuries. Without proof of what happened, it can be difficult to fight for the compensation you require to cover your medical bills and other expenses.
The evidence necessary to show the truck driver was distracted will depend on the specific circumstances of your case but could include:
Police report – If someone called 911, law enforcement likely arrived at the scene to investigate the cause of the accident. The police report could indicate the truck driver became distracted for some reason and didn't see you in their path.
Statements from witnesses – An eyewitness statement can be vital in showing proof of distracted driving. If another motorist, passenger, or even pedestrian saw the crash occur, they might have also seen the trucker's lack of attention to their surroundings.
Cell phone records – The truck driver's cell phone records could show they were talking on the phone or sending a text immediately before the collision.
Surveillance footage – Traffic cameras and security footage provide indisputable evidence of the trucker's behavior prior to the crash. It could show they were eating, looking at their cell phone, or focusing on something other than the road ahead.
Traffic citation – The officer investigating the crash might have issued a ticket to the trucker for texting or engaging in another type of distraction.
Electronic logging device – Some motor carriers install an electronic logging device (ELD) in their vehicle fleet. If there's an ELD in the truck involved in the accident, the recorded data could show the truck driver's activity before the accident. For example, if the trucker failed to slam on their brakes, it could be proof of being distracted because they likely would have tried to avoid a collision if they were paying attention.
Contact Us
Since 1998, the truck accident lawyers of Tiemann Law Firm have represented injured victims against negligent truck drivers. Our experienced and dedicated team knows how to investigate cases like yours and develop a strategy to prove who should be held liable for your injuries. We will fight by your side to seek the justice and maximum compensation you deserve. You should not have to go through this traumatic experience alone. We will remain in your corner until the end.
If you sustained injuries in a truck accident due to a distracted truck driver, do not hesitate to call Tiemann Law Firm at (916) 999-9000 or toll-free: (800) 712-2000. We will be happy to discuss the circumstances during a free consultation to determine what we can do to help.