WHO DO I CALL AFTER A SACRAMENTO TRAFFIC ACCIDENT?
Posted on Monday, February 19th, 2018 at 3:23 am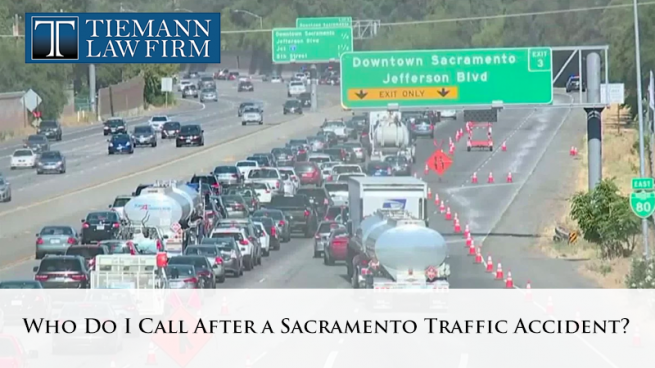 In most cases, your commute to work is without any events, other than possibly being stuck in a traffic jam. Unfortunately, for some drivers, their commute is interrupted by a traffic accident. The immediate surge of emotion and adrenaline can make it difficult to think. When panic sets in, you may find it almost impossible to take the steps you need to take after a Sacramento traffic accident.
To make it easier for you, we have compiled a step-by-step checklist of what to do after a car accident. We encourage you to print our list and keep it in your vehicle in case of an accident.
Stay at the Accident Scene
Do not leave the accident scene. You can be charged with leaving the scene of an accident. If possible, move your vehicle to the side of the road to avoid another collision.
Check on Others
Check on other people involved in the accident. You must be very careful, especially if the accident is on a busy road. After you make sure no one needs your assistance, return to your vehicle and focus on your injuries. Do not say "I'm sorry" or anything else that can be construed as accepting fault.
Call 911
Call for emergency medical services and the police. Stay on the line with the emergency operator until he or she tells you to do something different. If there are no injuries and little property damage, the police may not come to the accident scene. If not, report the crash to the DMV immediately. You need a record of the crash for your claim.
Exchange Information with the Other Driver
If the police come to the crash scene, the officer will obtain your insurance information and personal information. However, if the police do not respond, you must exchange information with the other driver. The information you should provide and receive from the other driver includes:
Name and address
License tag number
Driver's license number
Insurance information
Contact numbers
Document the Accident Scene
If it is safe to do so, take pictures of the accident scene, including all vehicles involved. Ask for the names and contact information of any witnesses. Take a few notes about the crash scene and how the collision occurred while it is fresh on your mind.
Seek Medical Attention
If you did not go to the hospital directly from the crash scene, you need to see your doctor as soon as possible. Documenting your injuries and medical treatment is very important for your accident claim.
Call Your Insurance Provider
Regardless of whether the crash is your fault, you must report the collision to your insurance company. You may be required to provide the police report or other information to your insurance provider.
Be Careful What You Say
Be very careful who you talk to about the crash and what you say to that person. Anything you say can be misconstrued and used against you. Until you have spoken with an attorney, avoid posting anything online, including using social media. Also, refrain from discussing the accident or your injuries with anyone other than your doctor.
Call a Sacramento Accident Attorney
We encourage you to contact our office to speak with a lawyer as soon as possible. Your first appoint with our Sacramento injury attorney is free of charge, so you have no reason not to get help.
Call Tiemann Law Firm at (916) 999-9000.