CALIFORNIA DRIVING WHILE DISTRACTED LAWS SACRAMENTO DRIVERS SHOULD KNOW
Posted on Friday, April 26th, 2019 at 11:39 pm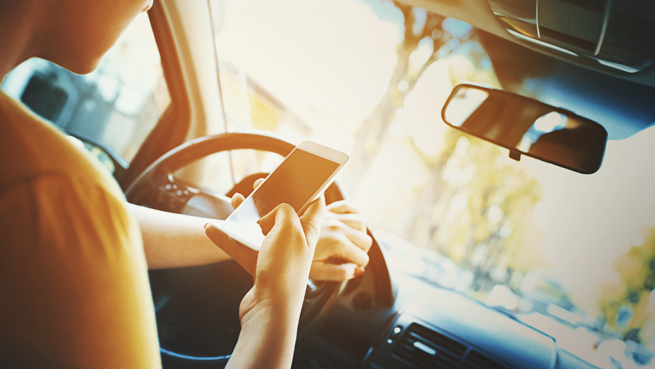 Thousands of people are killed or injured in distracted driving accidents each year in the United States. Distracted driving continues to be a common factor in many traffic accidents. Unfortunately, distracted driving is not against the law, but some activities while driving are banned. Sacramento drivers should be aware of the distracted driving laws in California and what to do if they are involved in an accident involving a distracted driver.
California Distracted Driving Laws
The use of cell phones while driving is one of the most common and dangerous types of distracted driving. California law prohibits the use of handheld cell phones while driving for all drivers. The ban includes texting while driving and making or receiving phone calls while driving. Emergency calls are exceptions to the ban. Emergency responders are not subject to the ban on handheld cell phones.
Drivers 18 years of age and older may use hands-free cell phones while driving, but drivers 17 years and younger cannot use handheld or hands-free cell phones.
The ban on texting while driving and using handheld cell phones applies in Sacramento County and throughout California.
Are Other Forms of Distracted Driving Illegal in California?
Even though distracted driving is potentially a deadly driving behavior, California's traffic laws do not make it illegal to multi-task while driving. In other words, a driver does not commit a crime for engaging in other common forms of distracted driving including:
Eating and drinking
Changing clothing or getting dressed
Grooming, including putting on makeup
Reaching for objects
Adjusting vehicle controls
Being distracted by things outside of the vehicle
Taking care of or interacting with other passengers
Daydreaming
Reading or writing
Sadly, some drivers believe they can safely multitask while driving. The people they have injured because of a distracted driving accident would not agree.
What Steps Should I Take After a Distracted Driving Accident?
In most cases, you want to treat an accident involving a distracted driver the same way you would any other accident. If you noticed the driver using his or her cell phone or performing another activity right before the crash, you should tell the officer. In some cases, the driver may admit to the distraction if the officer questions the driver. However, most people do not admit that they were distracted at the time of a crash.
In some cases, if the driver was using a cell phone, a Sacramento car accident attorney may be able to subpoena the driver's cell phone records to prove the driver was using the cell phone at the time of the crash. However, that does not prove that the driver caused the crash. You still must prove the driver did something to cause the collision, such as failing to yield the right of way or crossing into your lane. Proving the driver was distracted can be important in cases in which liability is in question, but it is only one factor in the case.
Your attorney conducts a thorough accident investigation to determine the cause of the crash and gather evidence to prove fault. Contacting a Sacramento distracted driving accident attorney as soon as possible is one of the best steps you can take after a distracted driving accident.
Call for a Free Case Review From a Sacramento Distracted Driving Accident
Call The Tiemann Law Firm at (916) 999-9000 or by visiting our website to schedule your free consultation with a Sacramento car accident lawyer.