BACK TO SCHOOL TIPS FOR PREVENTING PEDESTRIAN ACCIDENTS
Posted on Friday, July 26th, 2019 at 5:41 pm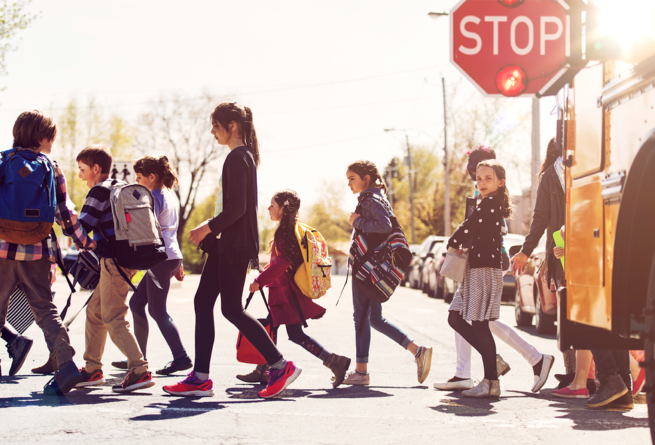 Some schools may already be back in session while others may begin in just a few weeks. Regardless of whether you have school-age children, it is important to recognize that back-to-school time creates an increased risk of pedestrian accidents in school zones, near schools, and near school bus stops. Young children may be walking to school or riding the bus for the first time. Even though parents educate their children about traffic dangers, children do not always remember those lessons. Children also do not fully understand the dangers posed by vehicles.
Therefore, it is everyone's responsibility to take extra precautions when school is in session to avoid pedestrian accidents in school zones. Below are several back-to-school safety tips for avoiding pedestrian accidents.
Tips for Avoiding Pedestrian Accidents During the School Year
Whenever possible, parents should walk with their children to school or bus stops. Parents may want to organize schedules so that they can rotate the task of waiting at a bus stop or walking children to school.
Never rush through a school zone. Do not assume that children are not present just because the lights are not flashing. Many children walk to and from school before "normal" school zone hours.
Slow down when approaching a school and watch for children. Do not allow anything to distract you while driving near a school. Your eyes need to be on the road, and your mind should be focused on watching for children approaching the road.
Stop at all crosswalks and intersections when warning lights are blinking. At other times, remain cautious and watch for children.
Obey school bus signals. Allow ample distance between your vehicle and the bus. Never pass a bus that is stopped to let children on or off.
Teach children to use sidewalks and crosswalks.
Watch for changes in speed limits when approaching school zones and obey all speed limits.
Be aware that your vehicle has several blind spots. Before pulling out of parking lots or continuing after stopping at an intersection, make sure to check those blind spots thoroughly.
Learn the traffic patterns at your child's school for pick up and drop off. Many schools have set traffic patterns that help protect children from pedestrian accidents at school.
Do not block an intersection or crosswalk as this forces children to go around your car, which could place them in the path of an oncoming vehicle.
Do not drop off or pick up children across the street from the school.
If you cannot walk your child to school or the bus stop, make several practice trips, so your child is familiar with the route. It is best to have an older child or adult walk with young children.
Get Help from a Sacramento Pedestrian Accident Attorney
If your child is injured in a pedestrian accident, your child may be entitled to compensation for injuries and damages. Our Sacramento pedestrian accident attorneys can help you protect your child's legal rights as we fight to seek justice for your child.
For a free consultation with a Sacramento pedestrian accident lawyer, call Tiemann Law Firm at (916) 999-9000.