AVOIDING PEDESTRIAN ACCIDENTS ON HALLOWEEN IN SACRAMENTO 2019
Posted on Monday, October 21st, 2019 at 2:51 am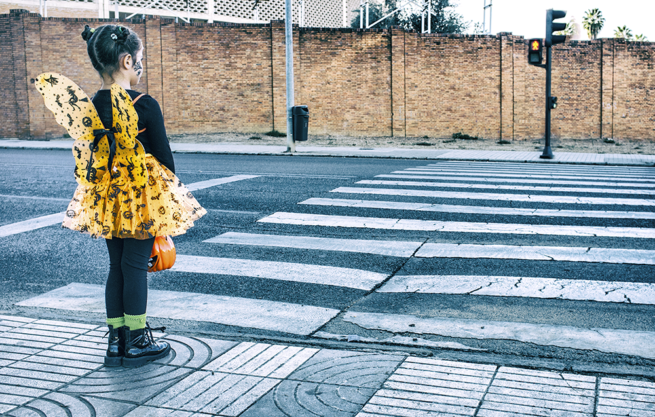 As you are gearing up for a great Halloween in Sacramento this year, it is important to remember the dangers associated with trick-or-treating. Many people are focused on ensuring the candy and treats their children receive are safe to consume. While checking candy and accepting treats from trusted sources is extremely important, it is also important to be aware of the dangers of pedestrian accidents on Halloween.
Children do not have the maturity level and knowledge to understand the dangers of walking near traffic. They are more impulsive than adults and do not understand the consequences of being impulsive. Therefore, it is up to parents to protect their children from pedestrian accidents on Halloween. Parents need to take safety precautions regardless of whether their children are going door-to-door in a neighborhood or if they are attending a Halloween party. Cars will be present on neighborhood streets and in parking lots.
Below are several tips to help keep your children safe and avoid pedestrian accidents while trick-or-treating.
Sacramento Halloween Trick-or-Treating Safety Tips to Avoid Pedestrian Accidents
Brighten Up Costumes
Some costumes are constructed of dark materials that make it more difficult for drivers to see children. Parents can use reflective tape, flashing accessories, and glowing accessories to make their children more visible. It is a good idea to use these items even when a child's costume is made from white or brightly colored materials.
Wear "Blinking" Shoes
Some children's shoes have blinking lights that light up when they walk. If your child has a pair of "blinking" shows, wear those shoes for trick-or-treating. Just make sure you don't cover up the lights with the costume.
Carry a Flashlight
You and your child should both carry a flashing to help motorists see you more clearly. Placing a bright flashlight in your child's pumpkin works great to add light without asking your child to keep up with the flashlight.
Children Should Walk Away from Roads
Place yourself between your child and traffic, whenever possible. Always hold hands with children, especially small children, whenever walking near traffic or crossing the road. Children may not give any warning before they run to catch up with a friend, get closer to a display, or try to get in front of the line for a treat or game.
Be Very Careful in Parking Lots
Parking lots are dangerous for small children. Drivers may not see small children behind vehicles as they back up. Drivers may also be distracted while driving through lots as they search for spaces, deal with children in the car, or reach for items in the car. Hold hands in parking lots and try to walk in between the front of vehicles if there is room. If you must walk behind vehicles, watch for a driver who might be preparing to back out.
Always Go with Your Children
The best way to protect your children on Halloween to stay with your children. Older children may want to go trick-or-treating with friends. However, it is best always to have at least one parent walk with children to watch for dangers and monitor the group for any behaviors that could put the children at risk of a pedestrian accident.
Contact a Sacramento Child Injury Attorney for Help
If your child is injured, the injury may give rise to a serious legal matter. After ensuring your child's physical and emotional needs are met, consider calling a Sacramento pedestrian accidents attorney to discuss your child's legal rights.
Call The Tiemann Law Firm at (916) 999-9000 to schedule a free consultation.