2018 EASTER EGG HUNTS IN SACRAMENTO CA
Posted on Friday, March 23rd, 2018 at 2:32 am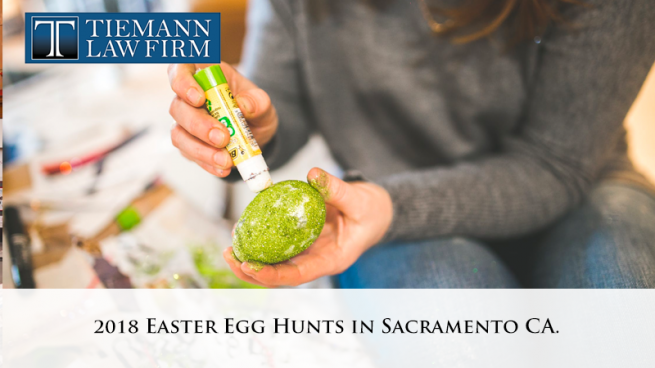 Are you searching for the best Easter Egg hunts in and around Sacramento? We found several events that might interest you.
Tahoe Park Community Easter Egg Hung — March 24, 2018
Bring your kids out to see the Easter Bunny, enjoy bounce houses, and participate in fun games. Organizers will have designated hunts every 15 minutes so that every child that attends has the opportunity to get eggs during the hunt. This is a free event. For more information, visit their website.
Southgate Bunny Breakfast & Eggs Galore — March 24, 2018
Enjoy breakfast with the Easter Bunny before going to the Easter Egg Hunt. The breakfast costs just $5 per family (up to 6 people) if you pre-register or $7 on the day of the event. The Easter Egg hunt is free to all who attend. Both events are at the Jose P. Rizai Community Center at 7320 Florin Mall Drive. See the website for more information, including times and age groups.
Carmichael Recreation and Park District — March 31, 2018
Join the Easter Bunny for breakfast, games, arts & crafts, and an "egg-citing" Easter Egg hunt at Carmichael Park. The park is located at 5750 Grant Avenue, Carmichael, CA. The time for the event is 9:00 am until 11:00 am. For more information, visit the park's website.
Funderland Amusement Park — March 23rd through March 25th, 2018
The Funderland Amusement Park is hosting an Easter Eggstravaganza with vendors, rides, arts & crafts, egg hunts, and visits from the Easter Bunny. Egg hunts will be limited to 30 children so that every child has the opportunity to find many eggs. Egg hunts will be held every 30 minutes throughout the day. For times, cost, and more information, visit Funderland's website.
Underwater Egg Hunt — March 31, 2018
Try something new for an egg hunt at the Fruitridge Community Center at 4000 Fruitridge Road, Sacramento, CA. In addition to other activities, there will be an underwater egg hunt in the swimming pool for children 12 years of age and under. A special golden egg will hold a special prize for the finder. Open swim time for egg hunt participants will be held after the Easter Egg hunt. Contact the community center for more information or visit its website.
More Events and Ideas for Spring Break
If you are searching for something to keep your children busy over Spring Break, you can find ideas on the websites for Sacrament 4 Kids, Sacramento 365, and Sacramento Parent. If you have events that you are excited about and want to share, we encourage you to share them with our readers in our comments section.
Sacramento Personal Injury Attorneys
We hope everyone has a safe and enjoyable Easter holiday and Spring Break. However, our personal injury lawyers are here for you if you need us.
For a free legal consultation with a Sacramento personal injury attorney, call The Tiemann Law Firm at (916) 999-9000 or visit our website. Our law firm serves clients in Sacramento, Folsom, Roseville, El Dorado Hills and other communities in the greater Sacramento area.