Loving Max
Posted on Thursday, May 20th, 2021 at 9:34 pm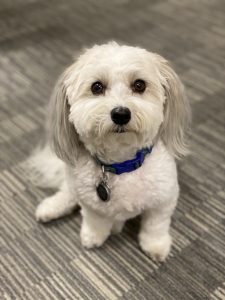 If you have visited the Tiemann Law Firm office, you have probably noticed our friendly little Havanese dog named Max. Since Max was as young as three months old, he stays at our office from eight in the morning to five o'clock at night, five days a week, adding smiles to those who walk by him. Trained since a puppy as a service dog, Max has not only impacted the people who work here, but also all the surrounding businesses and the people that visit our office. Even after cases have been closed, people still stop by and say hello to Max because they have fallen in love with this sweet little dog.
A Loving Dog
Max is now three years old and is loving and empathetic to all those around him. He often alleviates the staff stress and adds a smile to their day. Anyone who encounters his sweet nature instantly brightens when they see him. Because he is so kind and easy to love, everyone in the office truly adores Max. When that microwave bell goes off, Max comes running waiting for his reward from several staff members daily.
Max's daily presence gives him the opportunity to visit each employee and to take on the task of being the official office greeter. Clients who come in despondent, usually end leaving with a smile on their face after seeing Max. You will often spot Max picking favorites from time to time by curling up under someone's desk, as he likes to snuggle and find that perfect nap area at that moment.
Staying Fit
Being a service dog and a great source of cheer for the office, all of Max's friends understand the importance of keeping him fit. Max has an exercise routine at the office that involves walking from noon to two every day, working off those treats. Taking the position of mascot for the office as well as the for the entire building very seriously, you will see him enthusiastic when it comes time for his daily exercise. Lighting up the world for everyone around him, Max is the epitome of a sweet and loving dog who offers his affection freely to everyone he meets.
Come See Max
Have you or a loved one been injured and need a strong, successful, and trusted attorney? If so Tiemann Law Firm can help. Our experienced personal injury attorneys will fight for the compensation you deserve. Come to Tiemann Law Firm because of our caring nature and high success rate and you'll also be able to meet our friend Max.  Contact us today for a free, same-day consultation by calling (916) 999-9000.