Posted on Monday, November 1st, 2021 at 5:05 pm
Getting hurt in an accident with a commercial truck can be scary. It's often a shock to find yourself in a dangerous situation, injured and in pain. Most people don't know how to handle the aftermath of a crash. You might think you should discuss what just happened with the truck driver but saying the wrong thing could cause unforeseen consequences.
There are certain statements you shouldn't make following a truck accident. If you speak with the truck driver, you should only ask for their contact information and insurance details. Avoid talking about the accident, who might have been at fault, and any other circumstances involved. You could ruin your chance of recovering the maximum compensation available if you say the wrong thing. If you have pressing questions about your case, don't hesitate to contact us today.
Below are phrases you should never say to a truck driver after a truck accident.
"I'm Not Injured"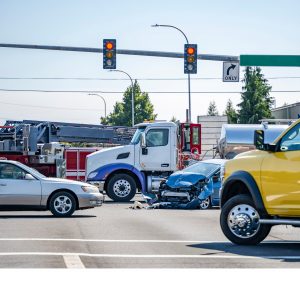 If you're in shock, any injury you suffered might seem minor. Since you don't feel much pain, you don't realize the extent of your injuries. You might think you don't need an ambulance to take you to the hospital. However, if the truck driver asks if you were injured in the crash, you should say yes.
A medical provider can examine you to determine what injuries you sustained and the necessary treatment plan. They might discover an injury or medical issue you didn't realize existed. Sometimes, accident victims don't experience symptoms immediately after an accident because their adrenaline is high, and the shock masks the pain.
Telling anyone, especially the truck driver, that you didn't get hurt can negatively affect the outcome of your case. If you choose to file an insurance claim, the insurance company will look at the statement you made at the scene as facts. Changing your story later will only cause the insurance company to assume you're exaggerating the severity of your injury to receive a higher settlement.
"I'm Sorry"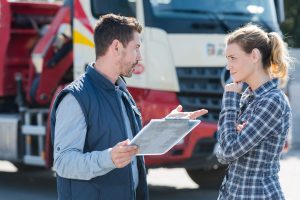 You might feel sorry about the accident and the truck driver's injuries. Even if you know the collision wasn't your fault, you might be tempted to apologize to the truck driver. Unfortunately, an apology and guilt are the same things to insurance companies. The insurance adjuster working on your claim could take your apology as evidence that you caused the crash.
The moments after a traumatic accident aren't the right time to talk to the truck driver. You can exchange insurance information and check on other injured parties. However, it should stop there. If you tell the trucker you're sorry, they could take that to mean you were responsible for causing the crash. They could inform their insurance company of your apology or the investigating officer at the scene.
"We Can Handle This Ourselves"
It's tempting to avoid notifying law enforcement of an accident, especially if you have a busy schedule and want to get your day back on track. You might tell the truck driver you're willing to work this situation out together without involving the police or insurance companies.
If you don't call 911 to report the crash, there won't be a police report. When law enforcement arrives at the scene of an accident, they can speak to all parties involved, ask witnesses what they saw, and determine who was at fault. Everything they discover should be in the report they write. You could use it as evidence to prove the truck driver should be liable for your injuries. However, without that report, you don't have this crucial piece of evidence. If you've suffered an accident with a truck, contact us immediately.
"I'm Partly at Fault"
Admitting partial fault for any type of accident can affect the amount of compensation you receive in a lawsuit. Juries can reduce a plaintiff's financial award by their percentage of fault under the pure comparative negligence statute. That means you could walk away without the compensation you need to cover your total incurred expenses.
Avoid saying anything about what you were doing before the crash occurred. Even if you believe your actions might have contributed because you weren't paying attention or exceeded the speed limit, you should never admit it to the truck driver, insurance company, or anyone else. Don't lie about your actions, but don't volunteer the information, either. Just say you don't want to talk about it now, and hire an attorney immediately.
Contact Us
The Sacramento truck accident attorneys of Tiemann Law Firm have represented accident victims since 1998. We have the experience and resources to help you hold the negligent truck driver liable for their actions. When you hire us, our legal team will be your advocate, and we will fight for the maximum compensation you need and deserve.
If you suffered injuries in a truck accident due to someone else's negligence, contact the Sacramento truck accident lawyers of Tiemann Law Firm immediately. We can meet with you for a free, same-day consultation to discuss your circumstances and determine your legal options. We're available 24/7 to speak with you.