Posted on Wednesday, June 1st, 2022 at 8:00 am
School will soon be out for the summer, which means more youngsters and teens taking their bikes on the road. Unfortunately, CA consistently has some of the highest numbers of bicycle accidents and fatalities. Keep your child safe while biking this summer with these tips:
Studies show most biking accidents take place in urban areas. Lack of dedicated bike lanes and distracted drivers increase the risk for young cyclers. Help your children pick the routes to their friends' homes or other locations they want to travel to that have the least amount of traffic.
Dress your children in brightly colored tops and tell them not to assume a driver sees them. Teach them proper hand signals for turning. Unfortunately, many drivers are not cognizant enough of their surroundings and may miss a small cyclist.
A large number of biking accidents happen at dusk. If your child or teen is riding at this hour, get them gear with reflective tape and equip their bike with reflectors.
Make sure your youngster travels with their cell phone with your number as the ICE (in case of emergency) contact. Instruct them what to do if they are involved in a biking accident. If they can, the first action should be to move out of the road to safety, call 911 and you.
In the case of a bike versus car accident, the bicyclist usually sustains more significant injuries. If your child is involved in a biking accident, take them to the emergency room, walk-in clinic, or their pediatrician as soon as possible after the accident, even if they don't seem to have any serious injuries. Getting them evaluated medically will help detect any internal or other non-visible injuries, and record the care you may need in the future. An experienced attorney will explain your rights and help you decide the best course of action for your child's case. If you have any questions regarding a bike accident and your child, don't hesitate to contact us.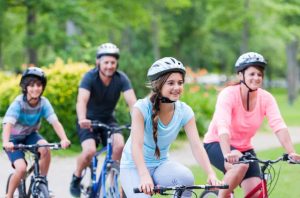 Have you or a loved one been a victim of a DUI, car, truck, motorcycle accident, dog attack, or a slip and fall incident? If so, Tiemann Law Firm can help. Our experienced legal team of personal injury attorneys will fight for the compensation you deserve. Contact us today for a free, same-day consultation by calling: (916) 999-9000 or toll-free: (800) 712-2000.