Posted on Wednesday, May 18th, 2022 at 8:00 am
Our roads are teeming with several types of trucks, from tractor-trailers and flatbeds to garbage trucks and cement mixers. Due to these vehicles' size, weight, and cargo, they are susceptible to several types of accidents that can cause severe injuries to passengers in other motor vehicles nearby. Some of the more common kinds of truck accidents include:
Jackknife
Rollovers
Wide turn collisions
Rear ending
Underride accidents
Cargo-related incidents
Suppose you've sustained an injury in a truck accident. In that case, an experienced attorney will investigate your case and determine whether or not negligence on the part of the truck driver, trucking company, or whoever loaded the truck played a role in the accident. The Federal Motor Carrier Safety Administration has strict regulations about the operation of trucks. Some rules you must follow:
Truck drivers must obtain and maintain a commercial license
Drive for no longer than 11 hours after being off for 10 hours
Inspect the truck before and after each shift
Refrain from consuming alcohol and drugs
Take at least a 30-minute break after driving 8 hours.
It's the obligation of trucking companies to fulfill specific regulations such as doing background checks on their drivers, providing training, maintaining all the trucks in their fleet, and ensuring they use proper securement systems to load cargo and that weight and size limits for that cargo are not violated.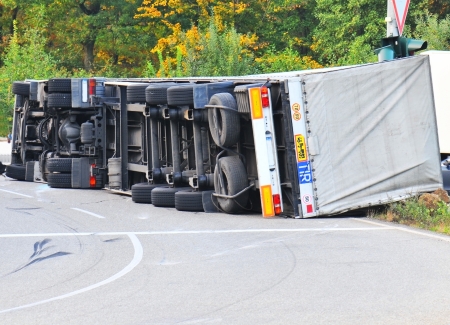 Suppose these or other regulations were not followed. In that case, they might have contributed to the accident, and you should be entitled to damages to help cover the medical expenses of your injuries and other losses you have or will sustain, such as loss of wages, pain, and suffering. Don't go it alone. A truck accident investigation can be complicated, and an experienced attorney will know what to look for and how to get you the maximum amount of compensation you're entitled to.
Have you or a loved one been a victim of a DUI, car, truck, motorcycle accident, dog attack, or a slip and fall incident? If so, Tiemann Law Firm can help. Our experienced personal injury attorneys will fight for the compensation you deserve. Contact us today for a free, same-day consultation by calling: (916) 999-9000 or toll-free: (800) 712-2000.