Posted on Wednesday, February 2nd, 2022 at 9:00 am
Although a motor vehicle accident can happen just about anywhere, the Federal Highway Administration reports that 40% of all crashes take place in an intersection. They estimate that as many as 2.5 million intersection accidents occur each year nationwide. In Sacramento, intersections like Arena Bl & Truxel Rd and Los Robles Bl & Marysville Bl bear this out.
Common Causes of Intersection Crashes
Part of the reason intersections prove to be so dangerous is that traffic is coming and going in multiple directions. As you might imagine, intersections that do not feature traffic lights or signage are even more prone to accidents. Some common sources of intersection accidents are:
Making a left turn and being hit by an oncoming car
Running a red light
Ignoring a stop sign
Driving distracted or under the influence of alcohol and drugs and failing to stay in the proper lane
Other Factors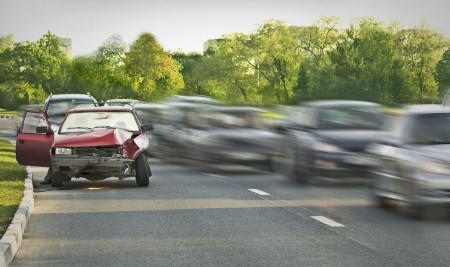 Motor vehicles can get into enough trouble alone in intersections but there are additional travelers on the road that increase the danger even more: pedestrians and cyclists. In addition to paying particular attention to lights, signage and what other drivers are doing, it's essential to be on the lookout for walkers and those on bikes or motorcycles. Although these bikes should be following the same traffic laws and signals as motor vehicles, they have different stopping and maneuvering abilities and are also smaller and more difficult to see than other cars. Pedestrians, like drivers, can be in a hurry or distracted as they try to get across an intersection and may cause an unsafe situation.
The bottom line is to be sure you are completely focused and not distracted when approaching any intersection. Slow down and be watchful about what's going on in all directions, including behind your vehicle.
Have you or a loved one been a victim of a DUI, car, truck, or motorcycle accident, dog attack, or a slip and fall incident? If so, Tiemann Law Firm can help. Our experienced personal injury attorneys will fight for the compensation you deserve. Contact us today for a free, same-day consultation by calling: (916) 999-9000 or toll-free: (800) 712-2000.