Four Things You Should Never Say After a Car Accident
Posted on Saturday, November 20th, 2021 at 5:32 pm
A car accident can cause severe injuries requiring emergency medical care and ongoing treatment. If you need to file an insurance claim, you might assume the insurance adjuster is on your side and wants to help you receive the maximum settlement you need to pay for your medical bills and other expenses. You also might think the at-fault driver will admit what they did, so their insurance company accepts liability.
However, these situations don't always work out favorably for accident victims. The negligent driver might lie about what happened, so you can't hold them liable for your injuries. Insurance companies don't want to provide significant settlements because they want to save money.
Although everyone involved in the crash and your insurance claim might seem friendly and willing to help, it could be a way of getting you to let your guard down and say something damaging to your claim. The statements you make after a car accident could become evidence in your case. The insurance company could use your words against you to deny your claim or provide a low settlement offer.
Below are four things you should avoid saying if you were injured in an accident due to someone else's negligent actions. If you have pressing questions about your case, contact us today.
"I'm Sorry"
Never apologize after an accident. You can check on anyone else involved in the crash and offer assistance if they suffered injuries but don't say you're sorry. Apologizing is often an automatic reaction to traumatic experiences. Many people say they're sorry to others in moments when they're in shock or feel bad about what happened.
You might think an apology will relieve tension or diffuse a high-stress situation, but your words could come back to haunt you later. Insurance companies look at apologies as an admission of guilt. The insurance adjuster working on your claim might think you apologized to the other driver because you caused the crash. That one statement could negatively affect the outcome of your case and result in less money than you deserve.
"I Think I Was…"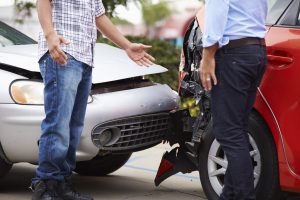 Speculating about the cause of a car crash is never a good idea. Even if you changed lanes without using a turn signal or read a text on your cell phone, you shouldn't admit it to anyone. Telling the other driver, insurance company, or investigating officer at the accident scene that you think you were partly to blame for what happened will only hurt your case.
Pure comparative negligence allows juries to reduce the plaintiff's compensation in a lawsuit. If the jury determines that your actions contributed in any way to the accident, they could assign you a percentage of fault for the crash. The value of your case will be diminished by the percentage of your fault for the accident. That means you could end up with compensation that doesn't cover your total losses.
"I'm Not Hurt"
 You might be in shock in the moments after the accident. Shock can mask pain and prevent you from noticing the severity of any injuries you suffered. You might not realize how badly you were hurt until hours later, when the adrenaline wears off. If you tell the at-fault driver your injury is minor, their insurance company will take your statement as evidence that you don't need a high settlement amount.
Unfortunately, hours or even days later, you could experience severe symptoms. After an examination by a doctor, you could discover the extent of your injury. You might need prescription drugs, physical therapy, or surgery. If you told someone you weren't hurt and then change the details about your injury later, the insurance company might think you're lying. They could refuse to negotiate for a significant settlement, leaving you with out-of-pocket expenses to cover your medical bills.
"I Accept the Offer"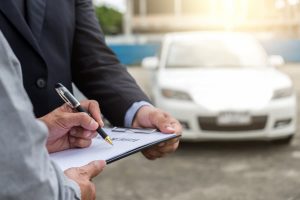 Insurance companies look for valid reasons to deny claims to save money. They will likely provide the lowest possible amount if they offer a settlement. Unfortunately, most accident victims don't realize the first offer isn't always the best. There's room for negotiation to increase the amount of compensation you receive after a car accident.
Without the help of a lawyer, you might accept any offer you can get. Insurance companies often use tactics to intimidate claimants into accepting lowball offers so they can close out the claim quickly. If you don't know the available coverage from the insurance policy, you could end up signing away your rights to the settlement amount you need to compensate for your total losses. Reach out to us today.
Injured in a Car Accident? Call Tiemann Law Firm Today
If someone else's carelessness caused your injuries in a car crash, contact the Sacramento car accident lawyers of Tiemann Law Firm right now. We can review your circumstances to determine whether the other driver should be held liable for your resulting medical treatment and other expenses.
For a free consultation and to learn more about your legal options and how we can help, call us at (916) 999-9000 today.