Sacramento Lawyers for Knee Damage from Car Accidents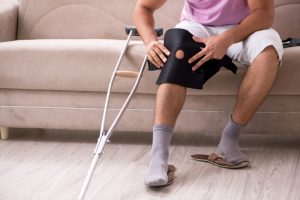 If you suffered knee damage in a car crash due to someone else's negligence, contact Tiemann Law Firm today. We can review your case and advise you about the available legal options. You might be entitled to compensation for your medical bills, loss of income, and other expenses.
A knee injury can come in many forms. The severity can range from minor to debilitating. The body experiences sudden and violent forces during a collision between two vehicles. The impact can cause instant damage to the knee. Torn tissue, sprained tendons, and fractured bones are common.
At Tiemann Law Firm, we have seen the negative impact of a knee injury on a person's life. It can lead to lifelong complications, including chronic pain and limited mobility. Without adequate medical treatment, you could suffer permanent damage that could prevent you from walking, driving, and completing routine tasks.
You deserve to have a dedicated legal team by your side to help you fight for justice. We will provide the legal representation and guidance you need to secure compensation from the negligent party. The money you're owed could pay for your medical care and additional costs so you can heal your knee injury and focus on getting your life back on track.
Call Tiemann Law Firm at (916) 999-9000, or reach out to us online right now for your free same-day consultation with one of our Sacramento car accident lawyers.
Common Types of Knee Injuries in Car Accidents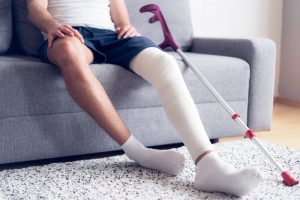 Car accidents commonly cause damage to the knee. A person's knee can bend or twist the wrong way during a crash or bang into the dashboard. Damage to bone, tissue, and tendons is likely to occur when that happens.
Common signs of a knee injury include:
Redness
Pain
Trouble putting weight on the knee
Tenderness
Swelling
Locking of the knee
Bruising
Feeling unstable
Popping or clicking sounds
Difficulty bending the knee
The most common knee injuries people can sustain in car accidents include:
Torn tendon – A tendon keeps muscle attached to the bone. When there's a tear to the tendon, it can be challenging to bend the knee and walk. Pain and bruising are common symptoms of a torn tendon.
Fractured knee – Knee fractures are among the most serious types of injuries to the knee. The patella can break in one place or fracture into multiple pieces. Surgery is often required to repair the damage and restore mobility.
Discoloration – Damage to the knee can affect the arteries and nerves. This can lead to discoloration of the skin from compromised circulation. The injured area can appear red and swollen. If an infection develops, the knee could turn to a yellow or green color.
Ligament injury – A ligament holds joints together by attaching the end of one bone to another. When the ligament tears away from the joint, it can cause excruciating pain. There are multiple ligaments in the knee area that could tear. These injuries can lead to reduced range of motion, swelling, and pain.
Torn meniscus – The meniscus is cartilage cushioned between the shinbone and thighbone. It acts as a shock absorber for the weight a person's body creates on the knee joint. The meniscus can tear when the knee joint experiences forceful twisting or flexing.
Dislocation – The knee can dislocate from its usual position during the impact of a crash. This type of injury is complex and can also involve damage to the cartilage and ligaments. Swelling, pain, and trouble walking are telltale signs of a dislocated knee.
If you hurt your knee in any way during a car accident, you should seek immediate medical care. A doctor can evaluate your condition and determine the appropriate treatment plan.
While you focus your time and energy on recovering, Tiemann Law Firm can handle your case. We will investigate the accident to determine who was at fault and gather the available evidence to prove that you deserve compensation.
Compensation for Knee Damage
California uses a traditional fault system regarding car accidents. The at-fault party becomes financially responsible for the injured person's losses. Every motorist must purchase and maintain auto insurance with liability coverage.
You could file a claim with the negligent driver's insurance company for a settlement to compensate for your accident-related losses, such as:
Loss of enjoyment of life
Medical expenses
Pain and suffering
Emotional distress
Physical impairment or disfigurement
Lost wages
Lost earning capacity
Property damage
You might also receive exemplary damages if you file a lawsuit. This form of compensation is meant to punish the defendant for their actions and deter similar behavior in the future. A jury will make an award of these damages to you if you provide clear and convincing evidence that the at-fault driver acted with malice, defrauded you, or oppressed you.
Pursuing Compensation for Knee Damage in a Lawsuit
There is a deadline to file a lawsuit after a car crash. California has a two-year statute of limitations. That means you must file your lawsuit within two years of the accident date to seek compensation for your knee injury. If the deadline passes before you file your lawsuit, you will lose your opportunity to pursue legal action against the negligent party.
Contact Us
Since 1998, Tiemann Law Firm has successfully represented car accident victims in Sacramento. We provide one-on-one attention and personalized services to every client who hires us. You will have a skilled and aggressive lawyer in your corner to help you hold the at-fault party liable.
We know many people face financial strain after getting hurt in a car accident. Your knee injury could prevent you from returning to work and earning your usual income. You might struggle to afford your medical bills and other expenses caused by the crash.
You won't have to worry about paying us upfront to represent you in your case. We take cases on contingency and won't recover any legal fees or costs unless we secure compensation for you. We also offer free same-day consultations so you can receive legal advice without any risk or obligation.
If you suffered knee damage in a car accident someone else caused, call Tiemann Law Firm at (916) 999-9000 today. One of our Sacramento knee damage lawyers will be happy to discuss the details with you during a free consultation and advise you about what we can do for you. Give us a call at (916) 999-9000, or reach out to us online today.