Untrained or Improperly Trained Driver At Fault for a Truck Accident in Sacramento
If you sustained an injury in a truck accident due to an untrained or improperly trained truck driver, contact Tiemann Law Firm immediately. You might be entitled to compensation for your medical bills, lost wages, and other losses resulting from the crash.
Truck accidents are destructive and violent. When a commercial truck collides with a passenger car, the smaller vehicle occupants often suffer severe injuries and death. After all, tractor-trailers and other large trucks are long, heavy, and could contain hazardous cargo. They're much more dangerous than compact cars and create significant forces during collisions.
At Tiemann Law Firm, our Sacramento truck accident attorneys have represented accident victims since 1998. We believe negligent truck drivers and motor carriers should be held liable for their actions. We can investigate your case, file a claim, and aggressively seek the money owed to you.
Call us at (916) 999-9000 today, or reach out online, for your free consultation and learn more about your legal options after an accident involving an untrained or improperly trained truck driver.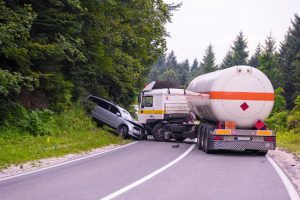 Why Untrained and Improperly Trained Truck Drivers Are Dangerous
Truck drivers typically get paid for every mile they drive. Motor carriers want to make money by ensuring their employees stay on schedule and pick up or deliver the cargo efficiently. When drivers go through the required training program, they're not on the road. They can't make any profits sitting in a classroom or a truck during a skills test.
Some truckers don't complete the necessary training and lie on their job applications so they can start working as soon as possible. Motor carriers may also fail to perform adequate background checks when they hire new drivers to resolve a staffing shortage. When this happens, inexperienced truckers end up behind the wheels of commercial trucks.
Operating a truck isn't easy. It's a large vehicle that requires extensive knowledge of how to maneuver correctly and safely around other vehicles and in dangerous conditions. One tiny error could cause the truck driver to lose control and collide with another car, pedestrian, or stationary object.
If you have questions particular to your case, don't hesitate to contact our office. We're here to help.
Common Causes of Truck Accidents
Improperly trained and untrained truckers can make mistakes at the wheel and place other drivers and passengers at risk of serious harm. The most common causes of these types of accidents include:
Tailgating
Improper braking
Failing to check blind spots
Unsafe lane changes
Driver distractions
Fatigued driving
Speeding
Turning too fast
Overloading cargo
Failing to yield to other motorists and non-motorists
Driving under the influence
Violating federal regulations, such as federal driving hours limits and break times
You could pursue legal action against the truck driver or their employer. The injury you sustained and your resulting losses should not be your financial responsibility if you didn't cause the crash. The negligent party should provide the necessary compensation for your medical treatment so you can heal and move forward with your life.
Parties Liable for Untrained and Improperly Trained Truck Drivers
It's not uncommon to believe the truck driver is at fault when an accident happens. However, various other parties could be responsible. Even though a trucker is behind the wheel of a commercial truck, they're not necessarily liable for collisions with other vehicles.
The motor carrier could be at fault for hiring an improperly trained or untrained driver. Although trucking companies must perform thorough background checks on prospective employees, they might skip this crucial step to bring someone new onboard. This could result in a reckless or dangerously under-skilled driver operating a truck they have no idea how to handle.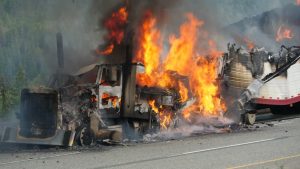 Compensation Available in a Truck Accident Case
According to the Federal Motor Carrier Safety Administration, all motor carriers must purchase liability insurance for every truck in their fleets. Coverage limits depend on the type of freight on the truck and the vehicle's overall weight.
Whether the truck driver or their employer was at fault for the collision, you could file a claim with the trucking company's liability insurance company. The settlement you receive in a claim might compensate you for various losses, such as:
Medical bills
Loss of enjoyment of life
Pain and suffering
Emotional distress
Lost wages
Lost earning capacity
Physical impairment or disfigurement
Property damage
Filing a lawsuit might be necessary. The insurance company could deny your claim or refuse to settle for an amount of money that adequately covers your losses. In a lawsuit against the insurance carrier and at-fault party, you could pursue exemplary damages.
This form of compensation punishes the defendant for their misconduct and deters similar behavior in the future. To receive this financial award, you must show clear and convincing evidence of the defendant's oppression, malice, or fraud.
Deadline to File a Lawsuit in California
You must follow the two-year statute of limitations to file a lawsuit in California. That means you have two years from the accident date to initiate your lawsuit in civil court. If you miss the deadline, you will likely lose your right to recover compensation in court.
However, an exception could delay or extend the statute if either of these circumstances applies to your case:
You are a minor – If you were under 18 years old at the time of the crash, you would have two years from the date of your 18th birthday to file suit instead of two years from the accident date.
Out of state defendant – If the defendant leaves the state before you can file, the statute will pause until they return. Their absence also will not count as part of the two-year timeframe.
Contact Us
Tiemann Law Firm has handled cases like yours for decades. We know what it takes to create the right strategy to meet our client's needs. We will protect your rights and try to reach the best possible outcome when you hire us. You can count on our legal team to be there for you from start to finish of the process.
If you suffered injuries in a truck accident that was caused by an untrained or improperly trained driver, contact Tiemann Law Firm immediately. We will review your case and determine whether we can represent you. You won't have to go through this traumatic experience alone. We will remain in your corner until the end. Call (916) 999-9000 or contact us online for your free consultation.