You were in an accident with a semi or other large commercial truck that was not your fault. As a result of the crash, you suffered injuries so severe that you had to have an arm or leg surgically removed. Amputations are extreme but sometimes necessary procedures to deal with limbs or extremities that suffered irreparable damage. After an amputation, the injured person will live the rest of their life without their arm, leg, or some other part of the body.
As you work to deal with your condition, you are likely receiving physical therapy and other medical treatment, and you may have lost your ability to do your job at the same level you once did if you can return to work at all. You are also contending with the emotional and mental impacts your condition has caused, and you may not feel like a "whole person" anymore.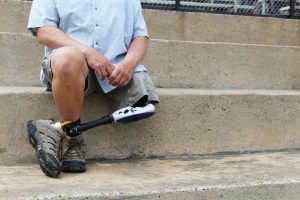 No one can put a price on the physical, emotional, and mental trauma you have gone through and will continue to live with for the rest of your life. However, you deserve compensation for your injury and loss of limb, and the Sacramento truck accident attorneys of Tiemann Law Firm can help.
Tiemann Law Firm has helped hundreds of clients across our area who have suffered amputations from truck accidents and other wrongful incidents. Our team of top-ranked lawyers has the knowledge and experience to handle your matter effectively, and you can rely on us to fight hard for you to help you get the compensation you need for your medical expenses as well as the pain and suffering from the accident and your amputation have caused you.
To schedule your free consultation today, you can call Tiemann Law Firm at (916) 999-9000 or complete our online contact form.
What Is Amputation?
The Cleveland Clinic defines amputation as "surgery to remove all or part of a limb or extremity." Amputation surgery is sometimes necessary to remove a part of the body that is so damaged or infected it can no longer function properly. It can also remove body areas that are so infected or damaged that they may compromise other parts of the body.
Amputation generally affects the limbs and extremities of the body, and physicians classify amputations as:
Above-knee amputation
Below-knee amputation
Foot and toe amputation
Arm amputation
Hand and finger amputation
Physicians will most commonly perform amputations to prevent an infection from moving to other parts of the body or to remove a wound that is not healing. Amputations can also be performed to eliminate intense pain coming from the damaged extremity and/or to help provide a better quality of life for the patient.
Infection, cancer, frostbite, diabetes, and other medical conditions can necessitate amputation surgery to affected body parts, but one of the most common reasons doctors perform amputations is to remove limbs that have been crushed, mangled, or otherwise almost destroyed through an injury-causing event, such as a car or truck accident.
Having handled hundreds of claims involving truck accident injuries that require amputation, the attorneys at Tiemann Law Firm can walk you through the process of obtaining compensation, and we will be there right beside you to help you get the money you deserve from the at-fault party responsible for this great loss.
Amputation Surgery
During the amputation surgery, the doctor will remove all affected tissue while trying to keep as much healthy tissue around the area as possible. This could include the removal of bones that are too damaged to mend or bones in areas where the overlying tissue was removed or irreparably destroyed.
The surgeon will smooth out any jagged or uneven bone surfaces and seal the surrounding blood vessels in the tissue to prevent bleeding. The surgeon will also probably have to reshape some of the muscle and tissue around the area before suturing the wound and applying a sterile dressing.
You will likely be in the hospital for several days as your medical team monitors your recovery and the possible onset of infection, and your physician will probably prescribe subsequent physical therapy for you. Depending on the location of the amputation, you may also need a prosthetic, such as an artificial leg or arm.
Complications
Although amputation surgery is sometimes required to remove infected tissue, after the surgery, an infection can still set in even with the best medical care. The following are some of the possible complications you may experience after your surgery:
Infection, which can spread
Swelling in and around the area
Bleeding from the wound
Intense pain
Muscle weakness
Furthermore, people who undergo amputation surgery also must deal with a phenomenon called phantom limb pain. This happens when the nerves close to the amputated area continue to send signals to the brain as if the limb or extremity were still there.
Dealing with an Amputation
Now and for the rest of your life, you will no longer have the use of your arm, leg, or another body part because of an accident caused by the careless, negligent, or unlawful actions of a truck driver or another party. You have had to deal with the horror and trauma of the accident itself and the excruciating pain of your injury since the crash occurred, but you also have to deal with your ongoing treatment and therapy.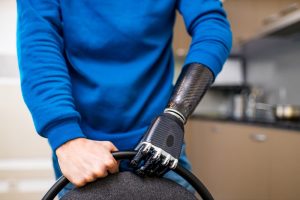 Perhaps even worse, you have to deal with the loss of a limb, and you will have to learn to live and cope with your condition. Although you can live a happy and productive life as an amputee, you shouldn't have to bear any of the accident-related costs of your injury and losses since it wasn't your fault. You deserve compensation for the pain and torment you have suffered, along with all that you will have to endure going forward.
We Can Help
If you were injured in Sacramento in a crash with a commercial vehicle that wasn't your fault, and you later suffered an amputation because of the accident, you might be eligible for compensation. The Sacramento personal injury lawyers at Tiemann Law Firm have achieved considerable success helping clients throughout the Sacramento area who suffered an amputation as the result of a truck accident, and we can help you, too. You can call our office at (916) 999-9000 or fill out our online contact form to request a free consultation about your situation.