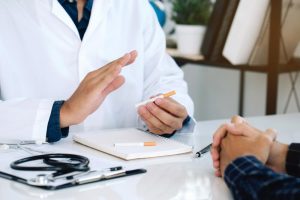 Anyone who has been involved in a truck accident knows that it is a harrowing experience. These vehicles can weigh up to 80,000 pounds when they are fully loaded, meaning that when they cause damage and injuries, they can turn lives upside down in an instant. When someone is injured in a collision with a large commercial vehicle, the risk to their health is considerable, and many of the resulting injuries could ultimately be fatal.
Some of the most serious injuries that result from commercial truck accidents can cause damage to internal organs. When a person suffers from organ damage, they can experience excruciating pain and suffering, in addition to facing steep medical bills, lost wages from missed time at work, and other substantial expenses.
If you have been the victim of organ damage from a truck accident that was not your fault, you may be eligible to receive compensation for your losses. The experienced Sacramento truck accident attorneys of Tiemann Law Firm are here to help you fight for the full and fair compensation you deserve. Call us at (916) 999-9000 or contact us online today to discuss your legal options.
Causes of Organ Damage in a Truck Accident
There are many ways in which a truck accident can result in organ damage. The injury might come from the blunt force to the torso that occurred in the initial impact. The risk of this type of injury is magnified if the collision from the truck caused the victim's car to roll over, or if the truck or its trailer crushed the smaller vehicle from above. In such cases, the extent of the injury may not be obvious in the immediate aftermath of the collision. Nevertheless, the injury may ultimately prove life-threatening. That's why it is essential to seek medical attention after an accident, even if there are no clear signs of injury.
Alternatively, the collision may lead to penetrating injuries, which occur when some part of one of the vehicles directly enters the chest, abdomen, or pelvis, thus piercing one or more internal organs. This is sometimes a result of penetration by a steering wheel, shards of glass from a broken windshield, fragments of the car dashboard, or pieces of cargo that might have come loose from the truck's trailer. In such situations, internal organs can bleed abundantly. Immediate medical care is necessary because the threat to life is extremely high.
Symptoms of Organ Damage
Some people who suffer organ damage in a truck accident may experience severe pain immediately or shortly after the collision occurs. Others may have more mild pain, leading them to believe that any injury they might have is not serious. However, it is important to be aware of the following symptoms, which may indicate damage to certain organs:
A weak pulse or a swollen abdomen may indicate liver damage.
Blood in the urine may indicate kidney damage.
Infections or blood pressure issues may indicate torn organs.
General weakness or dizziness may indicate that one or more organs have been damaged.
However, these symptoms may appear very mild at first, or they may be delayed for hours or days. Therefore, it is vital that you seek immediate medical attention after a truck accident, even if you do not believe you have been hurt. An experienced medical team will know what to look for, and they will conduct evaluations and testing that will help them determine the extent of any injuries that you may or may not be aware of.
Who Is Responsible?
To determine who is at fault for the accident that caused your injuries, you must prove that a party acted negligently and that this negligence was the cause of the accident. To be deemed negligent, the at-fault party must either have caused harm or have failed to act in a way that prevented harm to others. In other words, if they did not uphold their duty to act in a safe manner or provide safe parts, and this caused the accident that led to your losses, they can be held accountable for those losses. Depending on the circumstances of the accident, the at-fault party might be one or more of the following:
The trucking company
The truck owner
The truck driver
The maintenance company
Manufacturers of defective parts
Cargo loaders
From a legal standpoint, proving negligence is far from straightforward. It is necessary to gather documentation and evidence from various sources, including police reports, witness testimony, and medical reports, among others. An experienced truck accident lawyer will know how to obtain and organize this evidence in a way that will build the strongest possible case on your behalf.
Compensation for a Truck Accident Injury in Sacramento
Being injured in a truck accident can have severe consequences in your life. Recovery may take a long time, and you may even be facing a permanent disability that makes it impossible to work and earn money to support yourself and your family. As a result, you may be entitled to compensation for both the economic and non-economic losses you have suffered. These may include:
Medical expenses
Loss of income
Prescription medication
Reduced ability to earn wages
Loss of enjoyment of life
Emotional distress
Pain and suffering
Contact an Experienced Sacramento Truck Accident Attorney Today
If you have sustained organ damage in a truck accident, or if someone you love has lost their life as a result of truck accident-related organ damage, contact the experienced truck accident attorneys of Tiemann Law Firm today. Our lawyers understand how overwhelming the financial and emotional challenges you are facing right now are, and we want to help guide you through this difficult time.
We have been proud to help many clients in their successful pursuit of justice, and we are ready to do the same for you. We will fight for the full and fair compensation you deserve every step of the way. Call us at (916) 999-9000 or contact us online for a free consultation, and we will discuss your legal options.