Sacramento Lawyers for Internal Bleeding from a Truck Accident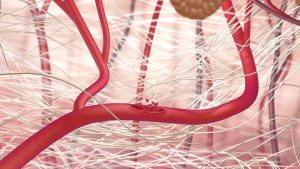 Accidents involving commercial trucks can cause catastrophic damage, as well as serious bodily harm. The sheer size and weight of large commercial vehicles are enough to cause life-threatening injuries, even if the crash occurs at relatively low speeds. One of the most disturbing consequences of these kinds of collisions is internal bleeding, which can lead to serious complications if left untreated.
If you have suffered from internal bleeding in a truck accident, and the accident was not your fault, you may be entitled to compensation for your losses. The experienced Sacramento truck accident attorneys at Tiemann Law Firm can help you fight for the full and fair compensation that you deserve. Call us today at (916) 999-9000 or contact us online now for a free consultation, and we can discuss what your legal options are.
What Is Internal Bleeding?
Internal bleeding, which is also known as hemorrhaging, is a type of bleeding that occurs when internal blood vessels are torn or damaged. While minor cases of internal bleeding that occur just beneath the surface of the skin may heal on their own over time, the most serious types of internal bleeding can be life-threatening. This is because extensive damage to blood vessels cannot be healed through the body's natural process of blood clotting. Thus, the damaged blood vessel will continue to bleed into internal cavities and organs.
Uncontrolled internal bleeding is the leading cause of preventable death among trauma patients, and most of these deaths are of people who have been involved in motor vehicle accidents.
Causes of Internal Bleeding from a Truck Accident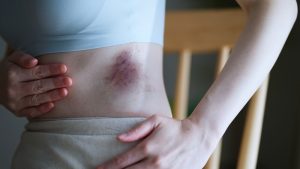 Truck collisions can cause blunt force trauma to the body, which is an external trauma that does not pierce the skin. In this type of trauma, the impact causes damage by compressing the internal organs. This may result in the organs beginning to bleed internally. In severe situations, the organ lining may tear, which can lead to bleeding into the abdominal cavity.
Some accidents may cause penetrating trauma, in which an external physical object punctures the skin and muscle and penetrates the internal body space and organs. This can occur, for example, if a shard of glass from a broken windshield makes its way into an accident victim's abdomen. This type of trauma nearly always causes some degree of internal bleeding because it can slice internal blood vessels in half.
Furthermore, internal bleeding within the brain can occur due to rapid acceleration and deceleration. Many people associate these actions with whiplash injuries, but they can also cause traumatic brain injuries (TBI). These types of injuries occur when a sudden, jarring stop caused by a truck accident impact jostles the brain around inside the skull. If the TBI causes the brain to collide with the inner wall of the skull, the impact can tear veins and trigger internal bleeding. Even if the bleeding is slight, this type of bleeding can create internal pressure within the skull, which can temporarily or even permanently impair brain function.
Symptoms and Diagnosis of Internal Bleeding
If the cause of internal bleeding is a penetrating trauma, the injury is visible and obvious. However, in the case of blunt force trauma or acceleration/deceleration injuries, internal bleeding does not always have any clear external symptoms because the bleeding is invisible. As a result, an injured person may not even realize that they are hurt until the situation becomes particularly serious.
Because internal bleeding disrupts blood circulation to vital organs, the body will eventually begin to exhibit systemic symptoms. Moderate internal bleeding typically presents itself in symptoms such as:
Aching pain in joints and muscles
Abdominal pain
Blood in the urine
Blurred or abnormal vision
Bruising
Chest pain and shortness of breath
Dark-colored diarrhea
Intense headache
Low blood pressure
Mental confusion
Unexplained weakness or sudden exhaustion
If internal bleeding from a major trauma is particularly severe, there may be a loss of consciousness, organ failure, or death within minutes or seconds.
Don't Delay Treatment
Even if you do not notice any of the above symptoms after being involved in a truck accident, it is vital that you seek immediate medical care so that you can be sure that you have not sustained any internal injuries.
When you arrive to receive your care, the medical professional may use an ultrasound to diagnose the injury. They will inspect the chest, abdominal cavity, and kidneys. Fluid in the abdomen indicates a high probability of internal bleeding, which will require immediate treatment.
Yet seeking medical treatment is not only vital for your physical health, but it's also necessary to help you build a strong case for your compensation claim against the at-fault party or parties. To determine the value of your claim, you'll need a full medical picture of the nature, cause, and extent of your injuries, as well as how likely they are to have consequences on your life in the future.
Compensation for Truck Accident Injuries in Sacramento
If you have suffered from internal bleeding as a result of a truck accident, you may be facing considerable medical bills. You may also be temporarily or permanently prevented from working to support yourself and your family. As a result, you may be entitled to compensation for your accident-related losses, including:
Medical expenses
Current and future loss of income
Prescription medication
Loss of enjoyment of life
Emotional distress
Pain and suffering
Contact an Experienced Sacramento Truck Accident Attorney Today
Life after a truck accident can feel overwhelming. Fortunately, the Sacramento truck accident attorneys at Tiemann Law Firm are here to help you through this difficult time. Our experienced legal team is fully prepared and ready to take on your case, and we will fight every step of the way for the full and fair compensation that you deserve.
We are proud to have helped many clients in their successful fights for compensation, and we will be just as proud to do the same for you. Call us at (916) 999-9000 or contact us online for a free consultation today.