Sacramento Cargo-Related Accident Attorneys
If you have been injured in a cargo-related accident with a commercial truck, you may be entitled to receive compensation. The Sacramento truck accident lawyers at Tiemann Law Firm can guide you through this devastating time. In cases like these, timely elements need to happen quickly, such as collecting and preserving evidence. It's important to call us or contact us online, as soon as you are able so we can begin building the strongest case possible for you. 
We are ready to examine the details of your situation and give you a free consultation, so you know what to expect. We will fight for the full amount you may be entitled to in compensation. You should not have to pay for someone else's mistake. After a cargo-related truck accident, you may be wondering how your life will get back to normal, and you may feel overwhelmed. Let us help you pursue the justice you deserve to focus on your healing and recovery. Don't wait to contact Tiemann Law Firm today at (916) 999-9000 to speak with one of our personal injury attorneys about your case.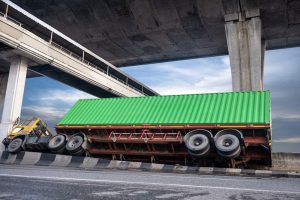 How Cargo-Related Truck Accidents Happen
Most of the goods that we purchase are shipped in large commercial trucks that travel on our streets and highways. We share the road with these powerful industrial machines, expecting them to operate safely. Ensuring the safe operation of the truck includes many elements, one of which is ensuring that cargo is loaded and secured properly. 
There are specific requirements for how cargo must be loaded and secured, depending on the type of cargo that is being carried. There are many different kinds of cargo, ranging from things like logs and large metal coils to concrete pipes and heavy machinery. The Federal Motor Carrier Safety Administration (FMCSA) has, for this reason, created the Driver's Handbook on Cargo Securement. This handbook spells out exactly how each cargo type is to be handled. 
Generally, the cargo must be loaded and secured so that it does not fall from the truck, including leaks and spills. It must also not shift so that the maneuverability or stability of the truck is impacted. To meet these requirements, the driver and carrier must follow specific responsibilities.
There are many ways that cargo can be improperly secured or loaded. Some examples include:
A trailer may be loaded such that it has too high a center of gravity, making it unstable

A trailer may be overloaded with too much weight, affecting maneuverability and increasing stopping distance

Cargo may be covered improperly, and bracing or blocking may be placed improperly

Tie-downs may be used improperly by either using an incorrect type or using too few tie-downs

Cargo weight distribution may be improper, affecting stability and maneuverability
When any of these improper loading or securing situations occurs, it's a recipe for disaster. The truck's acceleration, braking, turning, and stopping may all be negatively affected. Cargo may fall from the truck onto the road and become a dangerous vehicle hazard. A truck could even rollover due to improperly secured or loaded cargo.
Who Is Responsible for Loading and Securing Cargo?
The Driver's Handbook on Cargo Securement lists specific actions the drivers and the carriers must perform. For example, the driver's responsibilities include performing regular inspections of cargo and securing devices at defined intervals. The driver must inspect these before the trip, within the first 50 miles of the trip, and when the driver's duty status changes. The driver must also inspect again every 3 hours or 150 miles along the trip, whichever one occurs first. 
If a cargo-related accident occurs, more than one liable party may occur. An investigation will be performed to determine who is at fault. This will examine all the details that led to the accident. It will include analyzing who loaded the cargo, what equipment was used, and details of the required inspections during transport. The investigation may include loading dock workers, truck carriers, manufacturers of equipment, and the truck driver.
How a Truck Accident Lawyer Can Help
When a truck accident occurs, it often causes serious injuries. In addition to the significant physical injuries, there could also be damage to personal property, like a vehicle. Along with the complexity of those losses, there are also many parties involved, including truck owners, insurance companies, and trucking companies. The companies involved all have teams of lawyers who have been through this many times before. They understand how the legal process of pursuing compensation after a truck accident works. They use this knowledge and experience to do whatever they can to avoid paying you the money that you deserve.
A person who is the victim of such an accident is often taken advantage of in the process. Insurance companies may try to get you to make statements that imply that you are partially at fault for the accident. They are also known for making settlement offers that are too low. They are hoping that you will accept these offers. Insurance companies often assume that most individuals do not know all types of compensation that could be relevant to their case. When you choose Tiemann Law Firm to represent you, you can be sure that we will fight for the full amount that may be legally yours. Types of compensation may include:
Medical bills

Prescription medication

Physical therapy

Future medical care

Property damage

Lost wages

Loss of future income 

Pain and suffering

Loss of enjoyment of life
It's also important to note that you must file a lawsuit within two years of the cargo-related accident in the state of California. After this two-year statute of limitations, you can no longer pursue compensation.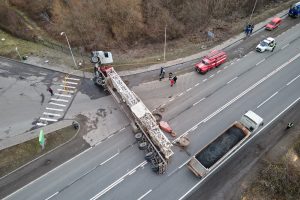 Contact Tiemann Law Firm Today
If you are the victim of a cargo-related truck accident in Sacramento that you did not cause, you may be entitled to receive monetary compensation. You should not have to pay for an accident that was not your fault.
At Tiemann Law Firm, our focus is on helping people who have been seriously injured. We bring years of experience and an aggressive approach to each case. We know how to get results, which has been proven throughout our 20 years in business. We do not charge you any fees until we win your case and you receive financial compensation. Our satisfied clients are the reason we do what we do. Their testimonials are our greatest source of pride.
Call us today at (916) 999-9000, or contact us online to speak with a Tiemann Law Firm legal team member. Our personal injury attorneys are ready to discuss your case with you. We can help you move on from this devastating injury so you can focus on rebuilding your life. Don't wait to reach out about your case.